Partick Thistle: Alan Archibald hopes Ian Maxwell stays at Firhill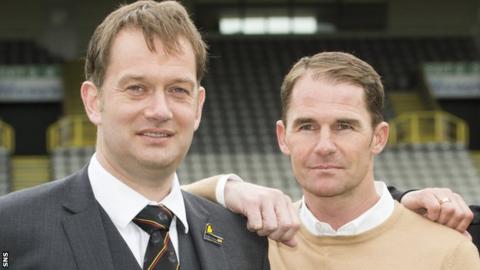 Partick Thistle manager Alan Archibald says he hopes Ian Maxwell doesn't leave to become the next Scottish FA chief executive.
Managing Director Maxwell has been linked with the post since Stewart Regan's departure last month.
Archibald described his former team-mate as a good candidate who will go "at some point", given his record.
"I've had a good relationship with Ian since I played with him and in the job he's in now," Archibald said.
"Hopefully he doesn't go. He's done well at Partick Thistle over the last five years. You can look back on how the club has changed. He's played a part in that. Hopefully he's still around."
Maxwell has applied to be Regan's successor and is favourite to become the SFA's new chief executive.
He left the governing body's board this week, with Scottish Professional Football League chief executive Neil Doncaster joining as his replacement.
Archibald believes Maxwell's experience as a player would be beneficial if he was offered the job.
"It certainly helps me from my perspective and the dealings we've got with our board," he said.
"He's a real bridge between the board and he sees it from every aspect.
"He's a good communicator. If he's going to be making decisions at the top end of football, when you go to make a decision you look at it from every aspect.
"He can probably see it more than most. He's not scared to go and ask a question.
"That's the most important thing, that relationships are good when you're going to make decisions that regard the whole of Scottish football."
While recognising Maxwell's credentials to lead the Scottish FA, Archibald insists it would be a significant blow for Partick Thistle if he departs.
"Of course it would, but he's not away yet," he explained.
"Hopefully he stays around and he doesn't get the job but he'll go at some point we know that. He's done a good job and he's an ambitious guy."