Ryan Higgins: Torquay United player's retirement 'very emotional' - Gary Owers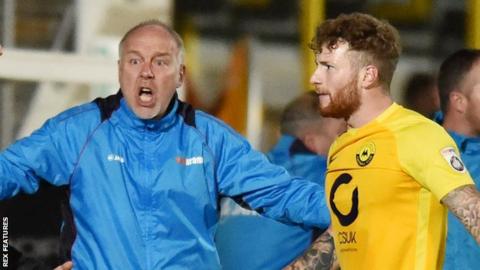 Torquay United manager Gary Owers says he has never known a more emotional scene than when Ryan Higgins told the squad he was having to retire.
The 23-year-old full-back was forced to quit after being diagnosed with a serious heart condition.
"I've never seen anything like it before in my career," Owers said.
"It was very emotional. Many of us were moved to tears, I have to say. It was tough, he's 23, and he can't play football again," he told BBC Sport.
Owers says later that day he got a text from former Gulls midfielder Damon Lathrope.
The 28-year-old was forced to retire earlier in March after badly breaking his leg while playing for Woking, just a few weeks after joining the Surrey club from Torquay.
"What he's been through and is going through in the last couple of weeks nobody would believe," said Owers.
"He's looking forward to being able to walk again properly.
"We all take what we do very seriously, but it doesn't matter really when you think about what those two boys are going through at the minute."
Owers' side are third from bottom of the National League and face a crucial game at fourth-from-bottom Solihull Moors on Saturday.
"I said to the lads that you have to make the most of every day, you just don't know what's around the corner in this game," he added.
"It's hard to use it as a motivational tool as you really feel for the two lads, but it's just trying to get that message across that we're all fortunate, looking at those two situations."