AFC Wimbledon aim to move into new Plough Lane stadium for 2019-20 season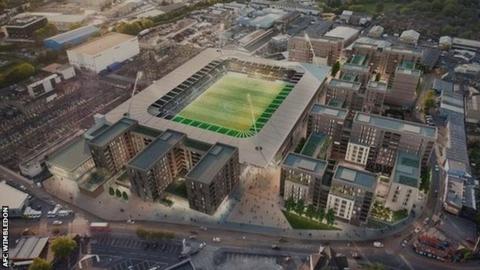 AFC Wimbledon aim to have their new stadium at Plough Lane ready for the beginning of the 2019-20 season.
The Dons have set a move-in date after demolition work began at the site to clear Wimbledon's greyhound stadium.
The League One club, which has played at Kingsmeadow since 2002, will build a 9,000-10,000 capacity stadium, which could later be expanded to hold 20,000.
"The time it will take is variable," AFC Wimbledon chief executive Erik Samuelson told BBC Radio London.
"It will take what it takes because there's asbestos in the roof [of the greyhound stadium] and it'll slow things down, but we expect we'll start building in the autumn.
"The question of how soon we can open depends on how quickly our contractors can get on site.
"It's not our land until it's cleared to the satisfaction of Merton Council. We'll then get a patch of land to build a stadium on."
AFC Wimbledon have played at Kingsmeadow in Kingston upon Thames since they were founded by supporters of Wimbledon FC in 2002.
Since Wimbledon FC's move to Milton Keynes and their renaming to MK Dons, the return of AFC Wimbledon to their spiritual home in Merton has been a major aim for the club.
The original Wimbledon FC were forced to leave Plough Lane in 1991 following the publication of the Taylor Report in the wake of the 1989 Hillsborough disaster, which recommended that top-flight sides should play in all-seater stadiums.
The redevelopment of Plough Lane will see the greyhound stadium demolished and the site levelled before construction work can begin.
Leader of Merton Council, Stephen Alambritis, said 604 homes and retail units will also be built alongside the new stadium through a £400m investment.
"I hope that they start playing in August 2019," he said. "Possibly with a friendly versus Liverpool, to bring back that iconic age of 1988 when they [Wimbledon] beat Liverpool in the FA Cup."
'Ardley might move on'
AFC Wimbledon are 18th in League One under the management of Neal Ardley, three points above the relegation zone with 10 matches remaining.
Ardley, who played for Wimbledon between 1991 and 2002, has managed the Dons since 2012. He saved the club from relegation from the Football League before helping them win promotion via the League Two play-offs in 2016.
Dave Bassett, who spent 13 years at Wimbledon FC as a player, assistant and manager from 1974 to 1987, believes Ardley is capable of working at a higher level.
"I think he's got the potential to be a good manager and if he's ambitious he might have to move on one day," he told BBC Radio London.
"It's important [for AFC Wimbledon] to keep Neal for a long time but the club must have a plan for when he wants to move on.
"He may feel he's done his time and a bigger club will come in and take him."