Tammy Abraham: Carlos Carvalhal ready to take chance on striker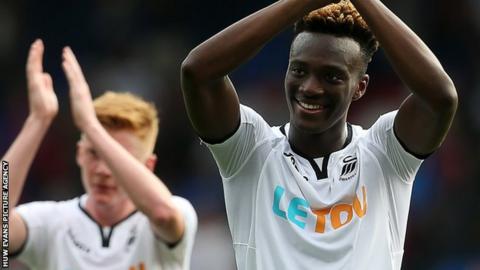 Swansea City manager Carlos Carvalhal insists Tammy Abraham is ready to take his FA Cup chance against Tottenham, saying the striker on loan from Chelsea is better for being less "selfish".
Abraham, 20, enjoyed a fine start to life at Swansea, scoring five goals in his first 10 appearances.
He then struggled for form and fitness after Carvalhal replaced Paul Clement but Abraham has impressed recently.
"He could not do this in the beginning," said Carvalhal.
"He was a little more individual, a little more selfish. But, in this moment, he is completely connected with the team and this is something I appreciate and I like.
"He is progressing and [that is] something crucial in our team, he could not play without it."
With Swansea without three forwards for Saturday's FA quarter-final clash with Spurs, Carvalhal is set to turn to Abraham as the Liberty club aim to reach the semi-finals for only the third time in their history - and 54 years since their last appearance.
Swansea are missing long-term injury victim Wilfried Bony, the suspended Jordan Ayew and the cup-tied Andre Ayew for the visit of Mauricio Pochettino's side.
But Carvalhal has backed Abraham to take his opportunity, claiming he has made significant progress since the Portuguese's arrival in south Wales.
"He is improving, he needs to play," Carvalhal said. "Of course he will now have more chances to play now that Jordan is out. All the time these kind of situations are an opportunity.
"He has an opportunity to show his abilities and make a big presence, but we will not put any big pressure on him. He must do the natural things."
Abraham has not started a league game under Carvalhal since the former Sheffield Wednesday boss' first game in charge, a 2-1 win at Watford in December.
He has been given chances in Swansea's protracted run to the last-eight, the Welsh club needing replays to see off Wolves, Notts County and Sheffield Wednesday in their three previous rounds.
But Carvahal suggested he is ready to hand Abraham a greater role after being impressed by a growing responsibility in the youngster, saying: "What I like now, compared to the past, was when I put him on at Huddersfield in a moment where we were defending.
"When I arrived if you asked if I could put Tammy on in a situation like that, I would not put him on for that last 15 minutes because he would have played completely differently.
"He is starting to understand that he is part of the group, [that] the group is more important than the individual. He understands he must do the team work, he understands it clearly.
"Because he understands it, even though the last game was 0-0, he could take a defensive role and he is ready to do it."
Less tension in the Swansea camp
Swansea - despite taking 18 points from 10 league games under Carvalhal - are still in the midst of a relegation fight with the colourful manager admitting that the FA Cup is not Swansea's priority.
But he did concede that his players are embracing the lack of pressure on Saturday's tie, with Tottenham chasing their only remaining realistic chance of silverware following last week's Champions League exit to Juventus.
"There hasn't been a massive difference (in the players) but I can say that there isn't as much tension as there was in previous weeks," he said. "That's not to say we are relaxed.
"There were more happy faces in training and they were training very well.
"But if you look at the faces of the players 45 minutes before the game you will see very tense and concentrated players.
"In that moment it doesn't make any difference, the natural nerves before you go to a game are there.
"The players that we put on the pitch will try to win. It will be a very tough game."
Save Swansea, then go on holiday
Swansea are the only team left in the competition to have never reached the final before, twice making the semi-finals: first in 1926 and again in 1964.
Victory and the prospect of a Wembley semi-final would propel Swansea into the spotlight in a week where they hit the headlines when Hollywood star Oprah Winfrey declared herself a follower of Swansea after discovering A Wrinkle in Time co-star Mindy Kaling is part of the club's US ownership.
But Carvalhal said he'd prefer not to join them in Hollywood after it was suggested his success could be the stuff of film scripts, saying: "All I want is to save my team and then go on holidays with my family.
"But when I saw that famous people are talking about us it is great. As I understand they are happy because they invest in the club and they felt that they did a very good investment.
"Of course I am happy to hear this kind of news and it's special because the name of the club goes out to the world which is very important."