Europa League: Arsenal fans have nothing to fear, says Russian official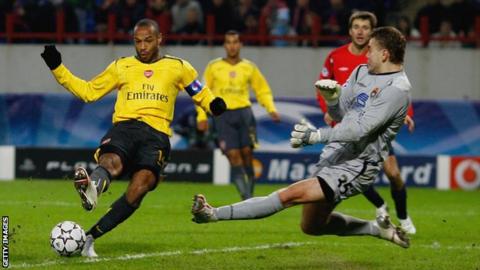 Russian official Alexei Sorokin has assured Arsenal fans they will have nothing to fear in Moscow next month.
Arsenal face CSKA Moscow in the Europa League quarter-finals amid political tension between the UK and Russia.
But Sorokin, chief of Russia's World Cup organising committee, has played down safety concerns for UK visitors.
"We will ensure security in equal measures to all, from dignitaries to fans," Sorokin told TASS, the government-owned Russian news agency.
"It is a shame that the games will be played in such circumstances."
On Wednesday, the Foreign Office updated its travel advice for Russia, warning UK nationals of "the possibility of anti-British sentiment or harassment".
That advice was reposted on Arsenal's website after the Europa League draw was made on Friday.
"There are absolutely no grounds for such warnings," added Sorokin, who is also a senior member of the Russian Football Union.
"To us, there is no difference which country people come from or what our diplomatic relations with them are."
On Saturday, Russia announced it is to expel 23 British diplomats in a row over the nerve agent attack on an-ex spy and his daughter in the UK.
The Russian foreign ministry said the UK staff would be expelled from Moscow within a week in response to Britain's decision to expel 23 Russian diplomats.
Arsenal will host the first leg at Emirates Stadium on 5 April, with the return game to be played in Moscow on 12 April.