John Still: Dagenham & Redbridge financial troubles lead to manager's hardest season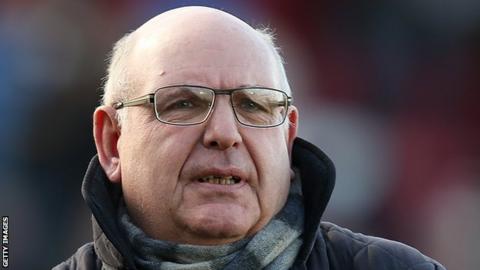 Dagenham & Redbridge manager John Still says the club's financial troubles have made this season his hardest ever.
Still has taken charge of nine different clubs in 39 years of management but the Daggers' problems off the pitch have tested him.
"It's been the hardest season I've ever had in my life," the 67-year-old said.
"It's been the most difficult I've had, but the club is massive to me so it's important I do everything I can to make sure everything is done properly."
Dagenham played a match against Premier League side West Ham on Wednesday to help raise the funds to keep the club afloat.
Michail Antonio scored twice in a 3-1 win for the Hammers, in front of a crowd of more than 4,500 at Victoria Road.
The Daggers are 11th in the National League with nine games remaining, but are desperately looking for investment after former director Glyn Hopkin resigned and ceased funding the club.
A consortium led by Hopkin purchased 74% of the club in January 2017, but stopped the cash flow on 31 December, with Hopkin then resigning as director on 2 February.
The effect has been felt on the pitch, with Dagenham forced to sell Sam Ling to Leyton Orient, Morgan Ferrier and Scott Doe to Boreham Wood and Corey Whitely to Ebbsfleet United.
"We've had to sell players but we still have a good, talented group," Still told BBC Radio London. "If anyone comes in, I think they'll be looking forward to a good future."
'A worrying time'
Dagenham & Redbridge managing director Steve Thompson said the club are in difficulties having committed player contracts at the beginning of the season which they can no longer afford to pay.
"We're not a club that's ever been in great debt," he told BBC Radio London. "We're paying our way. But at the moment we can't afford to pay the salary bill.
"A number of players have left us and moved to local clubs but these players don't earn fortunes. It's a job to them. They have mortgages and they can't afford to not earn their money.
"There isn't [a long-term solution] unfortunately. We're talking to one or two people about buying a majority shareholder stake, but they haven't got past the first step and that's worrying because the long-term future of the club depends on it.
"Even if it's just to stabilise us for the next 12 months. It is a worrying time."