Evangelos Marinakis: Nottingham Forest owner cleared of forming Greek match-fixing ring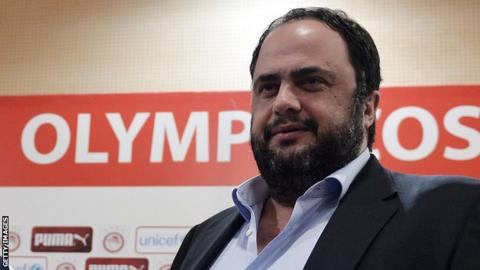 Nottingham Forest and Olympiakos owner Evangelos Marinakis has been cleared of forming a match-fixing ring in Greece by the country's Supreme Court, but may still face a bribery charge.
Greek media report the bribery allegations relating to match manipulation have been referred to a judicial council to determine whether or not to drop the charges against him.
Marinakis denies any wrongdoing.
The 50-year-old also faces charges of drug trafficking, which he denies.
On Friday, prosecutors in Piraeus, where Super League club Olympiakos is based, said the shipping magnate and three of his associates were facing "very serious charges" after an investigation into a tanker that was was carrying 2.1 tonnes of heroin in 2014.
Marinakis has said he is "innocent" and "a victim of a plot".
The Supreme Court's ruling on Monday came after Marinakis was charged at Athens Court of Appeals in November with forming a match-fixing ring.
Related blackmail and fraud charges against him have been dropped after being re-examined by the Supreme Court.
When Marinakis bought two-time European Cup winners Nottingham Forest in May, he told the BBC that allegations he was involved in a "criminal organisation" were invented by "jealous" opponents to "destroy" his success with Olympiakos.