World Cup 2018: 'Give us some love' - Raheem Sterling tells England fans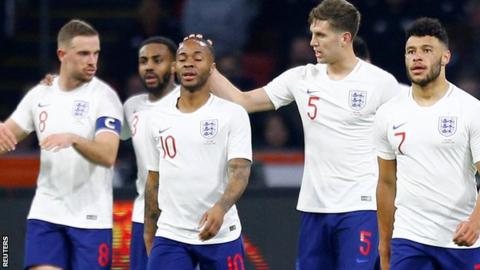 England forward Raheem Sterling has urged fans to "give love" to the team going into this summer's World Cup in Russia.
They have three more warm-up games before the tournament, starting with Italy at Wembley on Tuesday, having beaten the Netherlands 1-0 on Friday.
Sterling told BBC Radio 5 live: "I feel sometimes there is too much negativity.
"I would love to hear some positive notes coming in, just to let the boys know everyone is behind them."
England were unbeaten as they topped their World Cup qualifying group, winning eight out of 10 matches, but their recent performances have not always impressed the supporters.
Gareth Southgate's team, who face Tunisia, Panama and Belgium in their World Cup group, have gone five matches without conceding a goal, but have scored only three times themselves in that period.
'They are probably not doing it in a malicious way'
Sterling, 23, made his international debut in 2012 and has won 36 caps, although he has been subjected to boos at stages of his England career.
"If you want your country to do well as everyone says, bring a positive light to it," the Manchester City winger said.
"Make the boys go off to the World Cup with a clear head, that everyone is behind them and everyone is with them, and trust me I think you would definitely see a better England.
"I think if we get behind those players, give them love, you wouldn't know how much that will help them, how much that would boost their confidence."
Asked about receiving criticism from the England supporters, he said: "Obviously it's disappointing when you put on a shirt and get negative feedback, but at the same time it's what the fans want to see, they want to see you perform well.
"They are probably not doing it in a malicious way, but doing it in a way to make you know you need to step up. In a way it's good for someone like me, I kind of thrive on stuff like that to try to build."
"I think at times we are judged a bit too early. I think it probably doesn't work in our favour, but I think with the support in this country, I think if we do that a lot more, you'll see a lot more of the players coming through."
Sterling - who joined City from Liverpool for £49m in July 2015 - was part of the England team knocked out of Euro 2016 by Iceland.
"I had a rough year; I think it was the first year at City. You know I'd just moved to a big club with a big transfer fee, there was a lot of talk, a lot of pressure.
"I didn't think I was being spoken about in a fair manner. As a young boy I was around 20, 21 and at that age didn't think I was being treated right.
"It can affect anyone, not just me. How I bounced back? I had to think and sit down and I tried to move on from it and not let it defeat me really.
Guardiola's guidance
The pacy forward praised City manager Pep Guardiola, who has guided the team to a 16-point lead in the Premier League plus a place in the Champions League quarter-finals - against Sterling's former club Liverpool.
Sterling said "growing up" has improved him as a player.
"Growing from a young mentality where I wasn't as professional in terms of off the field, in terms of treatment, massage, ice baths and stuff like that and just being more ruthless as well.
"I think just growing up and understanding and listening to people, and putting in your own way and going with that. That is exactly what I've done and it's working for me."
Asked about the Spaniard's leadership, Sterling said: "It's fantastic because he is a great coach. He helps you in little details, nothing spectacular, it's just getting you back to basics, doing simple stuff.
"And you realise doing the simple stuff how much it can affect the game. That's what he has brought back to my game, try to simplify things and that's what I give him a lot of credit for."
'Just enjoy it'
Sterling played under Southgate for England Under-21s, alongside Jack Butland, John Stones and Harry Kane, which means he is familiar with the manager and many of his international team-mates.
"It's a camp that is really enjoyable; it's a camp where everybody is friends. You can see it if you come on the training ground, any hotel we are staying at, everyone is together. Everyone is doing some sort of games, not anything stupid; there is always great energy in the camp."
When asked what his dreams for Russia this summer are, he said: "To have fun. Enjoy it.
"Enjoy the football and the moment. This is the stuff you used to see on TV when you were a little kid. Now you get the opportunity to be here at 23, so just enjoy it.
"At the end of the day we know what we can do, it's just having that support, that backing and feeling loved."