Kevin Davies: Southport boss willing to muck in down the lower leagues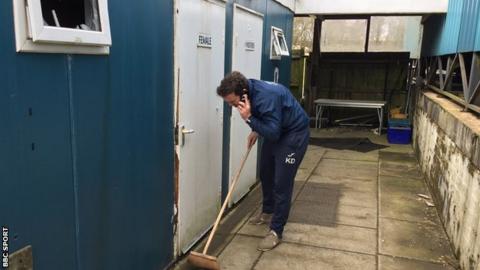 Overnight there has been a break-in at Southport's training ground, and manager Kevin Davies is literally picking up the pieces.
As his players drive into training and grab a slice of toast at the ground where they are put through their paces three times a week, the former Bolton Wanderers forward is around the back sweeping up broken glass from the changing room windows.
It's tempting to wonder how many other former England internationals would be willing to pick up a broom and graft like this in the sixth tier of English football, the National League North.
Southport defender Steve Howson, recently signed from league rivals Curzon Ashton, has a simple answer: "None".
The image is symptomatic of Davies, who has also been willing to cook pasta for the team on away trips and wash pots at the training ground as the club aim to become a more professional outfit and reach the English Football League in five years.
"We have a lot of volunteers at the club, some who give up 40 or 50 hours a week and don't get paid," Davies tells BBC Sport from his fitness trainer's office, which is littered with Men's Health magazines and has the players' body fat percentages on a whiteboard.
"So you have to muck in and embrace the level we are at. Sweeping the floors is something I did when I was on a youth training scheme at Chesterfield.
"It's all about having standards."
Southport's long-due turnaround
It's a Thursday morning at training and break-ins aside, the place is buzzing.
There is a distinctly non-league feel to the place, with a clubhouse carpet straight out of a working men's club, but players are busy receiving pre-training massages and warming up on the fitness bikes while others make teas and grab a quick game of table tennis.
"Gaffer, have you got any spanners?" asks fitness coach Neil Skidmore, who is attempting to assemble a weight-training station bought with money from player fines handed out for not washing up or arriving late.
Despite defeats on Saturday and Tuesday, Southport are on a high after winning eight of their last 12 games since the turn of the year, taking them from a relegation-threatened side to one which is challenging for the play-offs.
This is a club which has not been in the Football League since 1978 and has bounced between the fifth and sixth tiers ever since, so it took time to turn things around.
Davies failed to win any of his first 12 games and admits "there were some long drives home" after heavy home losses to Bradford Park Avenue and Blyth Spartans.
But he realised that with so much work to do, it was too early to lose hope. Asked what he needed to change at Southport when he took over in October, the 41-year-old says: "Everything."
'Gaffer, I'm not playing on this pitch'
Having spent 16 years as a Premier League player with Southampton, Blackburn and Bolton, the size of Davies' task was soon illustrated on his first away trip.
After asking what the team did for pre-match meals, he was told they amounted to ready meals in the coach microwave or toast, so he took matters into his own hands by going to a bulk retailer and cooking a batch of pasta.
"To be honest, it could have done with a bit more sauce, it was a bit dry," he says, admitting they have since hired professional caterers.
But it proved his dedication, a level to which some of his players seemingly failed to match.
His first training sessions were eye-opening. Having first learned they were to take place on two 3G five-a-side pitches, Davies says: "One player came up to me and said 'Gaffer, I'm not playing on this pitch'.
"I said 'OK, well you've signed for this club, when are you training then?'.
"Another one said, 'I'll just run down the side of the pitch on the grass, I can't train on 3G'.
Are they still at the club? "No."
Lack of fitness was a big issue, and there has been a huge turnover of players since, including the club's record signing of former FC United of Manchester striker Jason Gilchrist for a reported £30,000.
It has also led to a change in recruitment policy where Davies has avoided signing those working in manual jobs, such as labourers, because he wants "football to be the focus" rather than a "demanding day job".
But he stresses that he "gave everyone an opportunity to impress me and prove they wanted to play for the club".
"You have managers saying don't try and bring your level of professionalism to non-league, it doesn't work," Davies adds. "They said that the lads who are working all day want to come in for an hour, have a bit of fun and go home.
"That didn't sit well with me. I wanted to put my stamp on it.
"Having access to the players at our training facility has been a massive turning point. They can come in and have a bit of breakfast, do a bit of pre-hab, get the medical team to assess them or get a massage. None of that existed before."
Changing Southport's culture
After unveiling plans to refurbish its Haig Avenue stadium, it is revealing to listen to chief executive Natalie Atkinson, who previously worked at Curzon Ashton and describes Southport's budget as "amazing".
Davies, who calls the budget "competitive", says he gets some friendly stick off former Blackburn forward Matt Jansen, now manager at Chorley, every time he signs a new player.
But the former England striker, who earned a solitary cap in 2010, is keen to stress that the money "has to be spent right" and says he's done some good deals.
"We do due diligence on players, check on them as characters. That's one of the things I learned from [former manager] Sam Allardyce."
Some of the biggest changes to the club's culture have cost very little.
In between managing Southport, which is still a part-time outfit, Davies is also studying for a master's degree in sports directorship at Manchester Metropolitan University.
It is there he learned how Borussia Dortmund painted their players' tunnel with landmarks from the city to inspire players, so Davies decided to do the same at Haig Avenue.
He has also led the way in trying to get a younger clientele through the door, given that Southport has traditionally attracted a more experienced supporter from the town.
"In one of my first games, the child mascot was on the pitch and I told them to come and meet the players, but they said they weren't allowed in the changing rooms.
"I was like, 'What? Get in there now'. The players were taken aback at first, but the mascot had a great time, got to meet the players and they might want to come back with their friends.
"As good as the fans are, we have to look to the future and engage with the community."
How many would drop down to this level?
Davies' willingness to drop down the leagues to earn his stripes marks him out as a rarity among former Premier League stars.
Former Arsenal and England defender Sol Campbell, who has been trying to step into management, recently said he didn't "want to go too low that it's a struggle", although after being turned down by League Two Grimsby, he said he was willing to "get his hands dirty".
Campbell was told he lacked experience for the Grimsby role, something which also applied to Davies, but the Sheffield-born manager did his homework and was selected from more than 100 candidates.
He does, though, recognise that more could be done to help former players aiming to cut their managerial teeth.
"There are some players who get offered under-12 roles at Premier League or Championship clubs and they aspire to be higher than that. Others might feel the National League is too low for them.
"But when I applied for the Chesterfield job, I was told I lacked experience, so how do you get it?
"I love the intimacy of National League football and when I was working for BT Sport covering this level, I was able to go to a lot of new grounds and have a coffee with a chairman or club secretary. I got to pick the brains of managers such as [Lincoln City's] Danny Cowley.
"Players are finding it difficult to get opportunities, and I think it's something the Professional Footballers' Association could help out with by giving them interview training because I think that's where a lot of them fall down.
"Southport was my first ever interview, but I prepared for it for weeks. I made a big presentation, did my history on the club, watched them play a few times, offered ideas on how they could improve and came up with a recruitment plan which had contacts within a one-and-half-hour drive time from Southport."
Can Southport make the step up to league football?
Time is running out on our interview and Davies needs to get out on the training pitch where his diligent assistant Jon McCarthy will tell the players "to set the tone" as they go through their exercises and drills.
So among the pot-washing, the sweeping and compiling video analysis until 1am, is he actually enjoying his first taste of management?
"Everyone asks me that, and I say no," Davies replies. "It's a lot better now. After some defeats, I have questioned myself a bit but the good thing is you're back in the next day, speaking to your staff and players, and we're all working in the same direction.
"You don't get time to dwell on the losses. As for the wins, I don't enjoy them as much as I thought I would.
"It's not really relief. Immediately, you're just looking at other results and the table, planning for next week and doing the video analysis."
For Davies, who is contracted in a part-time role but can do 35 hours "in a few days", the work never stops.
"I was speaking to Blackpool boss Gary Bowyer the other day and asking him when he finds time to go on holiday. He said 'even if you do, you'll be asking to pop to the shops to make a quick call'. It's full-on.
"I don't see the family as much as I used to in retirement, but my wife and kids come to the games, and Southport is a good club and being part of it is important.
"It'll be difficult to get out of this league and the one above, but I'm excited by what's ahead - we haven't achieved anything yet but we will keep pushing."