Derby County to sue former chief executive Sam Rush over unauthorised contracts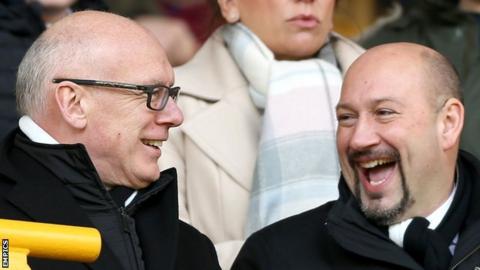 Derby County are to sue their former club president and chief executive Sam Rush for £6.84m over unauthorised contracts, reports BBC Radio Derby.
The club have revealed that High Court proceedings were issued on 22 December against Rush, who was dismissed for alleged gross misconduct in May 2017.
Details emerged in a club statement on their accounts for the 2016-17 season.
Rush denies doing anything wrong and plans to counter-sue for unfair dismissal and breach of contract.
In the statement issued by the club, Derby say the claim by their parent company Sevco 5112 Limited relates to 'certain contracts entered into by the club', including:
Scouting and consultancy agreements not authorised by Derby's board of directors.
Transfer fees for players above the figure agreed by the board.
Wages in excess of what was agreed by the board.
Excessive fees to agents unauthorised by the board.
The accounts show a loss of £7.9m - but that is an improvement on the £14m loss in the previous financial year.
And the Rams reported a best-ever Championship turnover of £29m helped by their significantly increased television deal, a £6.4m increase on 2015-16, although owner Mel Morris says they still need to cut costs.
Rush's time at Derby
Rush joined the club in January 2013 from global sports and entertainment agency Wasserman Media Group.
He signed a new five-year deal in October 2015, shortly after playing a major role in bringing Derby-born entrepreneur Morris to the club.
He was dismissed with immediate effect in May 2017 "on the grounds of gross misconduct and breach of fiduciary duty".
With nine games left this season, play-off hopefuls Derby are currently fifth in the Championship, under manager Gary Rowett.