Biggleswade Town: Non-league side play outfield player in goal after injury crisis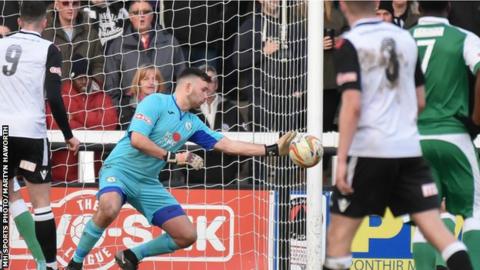 As selection headaches go, non-league Biggleswade Town's goalkeeper crisis is quite something.
The Southern League Premier Division club have three goalkeepers on their books but none of them are currently available. First choice Liam Gooch has broken his fingers, Sam Donkin has a hamstring injury and they are unaware of the whereabouts of their third registered goalkeeper, who is thought to have gone back to his native Poland.
The cut off for signing new players was 22 March, but the league will not let them sign another goalkeeper, meaning they face having to play their remaining eight games this season without a recognised keeper.
The league say that as the third goalkeeper is still registered and presumably not injured, they will not let Biggleswade sign a temporary replacement.
That all meant that the seventh-tier club were forced to play captain and winger Craig Daniel in goal during their 1-1 draw against Gosport Borough on Saturday.
"We had a training session on Thursday and Craig couldn't train as his knee was sore," Biggleswade Town manager Chris Nunn told BBC Sport.
"Then we thought of having a penalty shoot out if there were two or three volunteers. We knew Craig couldn't play outfield because of his knee, so he could go in goal. If he hadn't, we would have effectively lost another outfield player.
Speaking to BBC Sport earlier in the week, Southern League chairman Terry Barratt explained the reasons why they will not sanction the signing of another goalkeeper.
"We wrote to all clubs in the league in February to say 'please ensure all players signed on are available, otherwise cancel their registrations'," he said.
"Biggleswade didn't cancel the registration of their Polish keeper, so as far as we're concerned they have a third goalkeeper available.
"I asked the league secretary, Jason Mills, to send emails to the league board asking if Biggleswade should be given dispensation, and the board unanimously said no."
An 'outstanding' performance
Despite the fact Daniel is an outfield player with no experience of playing in goal, Biggleswade conceded just once and Nunn was more than happy with his performance between the posts.
He continued: "Craig was outstanding. In the first half he had little to do because we bossed it, but in the second half they really went for it and he produced two really good saves. No keeper would have saved their goal, it was that good.
"There's no reason why I would change Craig [for the rest of the season]. My only concern as that his knee was getting sore towards the end of the match. It could be a curse that whoever plays gets injured. The lads were joking about it on the coach home."