Dundee: Neil McCann expects a 'fair hearing' at SFA disciplinary tribunal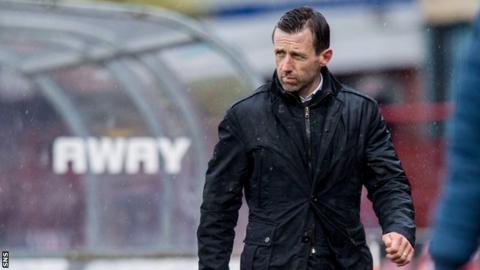 Dundee manager Neil McCann hopes "sense will prevail" when he attends a Scottish FA disciplinary hearing at Hampden on Thursday.
McCann faces a charge of "excessive misconduct" along with St Johnstone goalkeeper Zander Clark.
The two clashed on the touchline following St Johnstone's 4-0 win at Dens Park earlier this month,
"I expect a fair hearing. I will represent myself," the Dundee manager said.
"My statement has been handed in. It hasn't changed".
McCann and Clark were involved in a confrontation after an exchange between McCann and the St Johnstone kit man. The Dundee manager denied slapping Clark, who was the Perth side's substitute goalkeeper.
The hearing at Hampden has been set for the afternoon, to allow McCann to make a personal appearance after taking training in the morning, ahead of hosting Hearts on Sunday.
"I am pleased that the hearing has been put back," the Dundee manager added.
"They gave me an earlier time, which was stopping me doing my preparation towards what is going to be an important period going into the Hearts game.
"I was pleased that they knocked it back to 2pm, so I will get myself down there."
As well as the meeting with Hearts, Dundee face trips to Celtic Park and Ibrox before the split, with the team currently 10th in the Premiership, three points clear of the relegation play-off place.
"All the work and preparation is done during the week and really the job as a manager and coach is trying to tinker while the game is on-going," McCann said.
"We are clearly not at the stage where I can sit back and take a seat.
"I feel that I need to coach so it is important that I need to be there and I am hoping that sense will prevail and I will be [in the dugout]. It is important that I am there because I want to be there."