FA sex abuse inquiry: Clive Sheldon QC may target clubs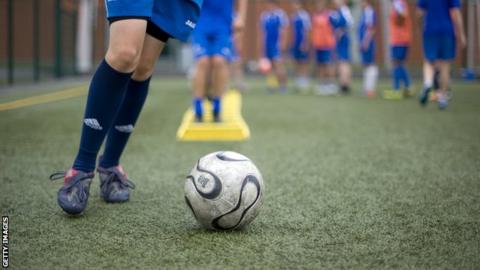 The man leading an investigation into historical sex abuse for the Football Association could carry out a separate inquiry into the clubs involved.
Clive Sheldon QC has asked a number of clubs for a "structured report" into how they handled allegations of abuse.
If he feels those are unsatisfactory he may step in to carry out his own investigation.
It comes after Crewe Alexandra said they would scrap plans for review into abuse by former coach Barry Bennell.
In February, Bennell was sentenced to 31 years in prison for abusing 12 boys, seven of whom were linked to the Cheshire club.
It is understood that Sheldon has not ruled out trying to speak to Mr Bennell in prison as part of his wider investigation.
It is thought around a dozen clubs will form the basis of the final investigation, likely to include the likes of Manchester City, Chelsea and Aston Villa.
In 2016, Sheldon was asked by the Football Association to look into historical sexual abuse in the sport, following a series of allegations by former players.
So far he has met 29 victims, and - along with his team - has had therapy after hearing accounts of the devastating effect the abuse has had.
It is understood his inquiry has also now started to take evidence from officials and administrators involved in the game in the 1980s and 90s.
Investigators have sifted through 3,587 documents in the FA archives - some containing more than 1,000 pages - as part of their search for data relating to safeguarding procedures and child protection cases.
Some 353 of those files are thought to contain information described as highly relevant.
The scale of the task means the work will not now be completed until September 2018 at the earliest, the second time the date has been pushed back.
The most recent police figures from January showed 839 alleged victims had come forward since former Crewe player Andy Woodward first spoke to the Guardian newspaper and the BBC's Victoria Derbyshire Programme about the abuse he suffered.
Operation Hydrant, the specialist police unit in charge of the operation, has identified 294 suspects and a number of court cases involving professional clubs are under way.
The inquiry team remain keen to speak to anyone with relevant information. To get in touch, email football@sportresolutions.co.uk
Watch the BBC's Victoria Derbyshire programme on weekdays between 09:00 and 11:00 on BBC Two and the BBC News channel.