Hearts: Craig Levein speaking to players as recruitment drive begins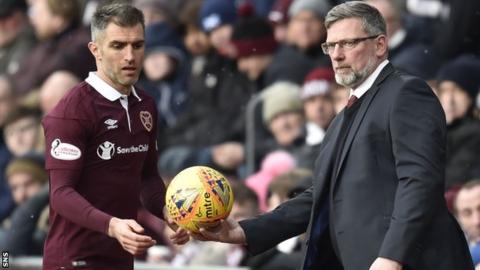 Hearts manager Craig Levein has made offers to "three different players" to bolster his squad for next season.
Levein also highlighted there will be departures.
The Tynecastle side, who visit Dundee on Sunday, are currently trying to secure a top-six place in this season's Scottish Premiership.
"Things are going on behind the scenes and we are working away to get some business done as quickly as possible," said Levein.
"I'm hoping to get four or five done fairly early and then have some time and see how that looks and then maybe bring some others in maybe mid-July and into the end of August.
"We have made offers to three different players already."
Though Levein refused to be drawn on departures, he did indicate that supporters will not have long to wait to find out who will be leaving.
"I had planned in doing that round about the split and I think we will still do that," he explained.
Hearts currently sit in sixth position in the table and have two games to play before the league splits in two for its final five rounds of fixtures.
"Three points from the last two games would be enough," Levein added. "But I don't want to wait until the last game at home to Aberdeen to secure it.
"Obviously, finishing in the top six we will get more money than if we were not.
"The focus is to do that and to make things as easy as possible when I sit down with [owner] Ann Budge to discuss the budgets for next season."