Sebastien Migne leaves post as Congo coach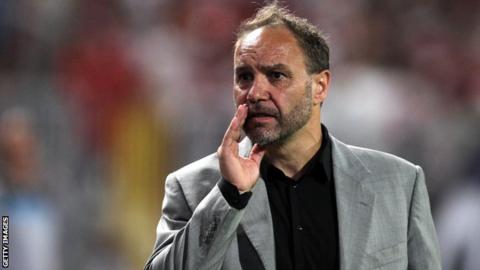 Frenchman Sebastien Migne has left his post as coach of Congo Brazzaville after a year in charge of the Red Devils, citing poor working conditions.
Migne, 45, who was appointed in March last year on a two-year deal as replacement for compatriot Pierre Lechantre, won only a game out of seven in charge - a 2-0 win over Guinea Bissau on Sunday.
"I would like to thank all the people who gave me their support and the opportunity to train this team, with a special gratitude to [sports minister] Léon-Alfred Opimbat," a statement from Migne said.
He added that his desire to improve the team and fulfil his obligations as a coach differed from Congo Football Federation's philosophy.
"I would have liked to stay longer in the quest to reach the 2019 African Cup of Nations, but it is unfortunately impossible. I wish the team all the best of luck and remain convinced in their ability to qualify," he added.
Migne had previously worked as Claude LeRoy's assistant with Congo until November 2015.
The 1972 African champions had mandated him to guide the team to the 2019 Africa Cup of Nations in Cameroon.
Under LeRoy's guidance, Congo reached the quarter-finals of the 2015 Nations Cup, which was their first appearance at the finals since 2000 - and only their third since 1978.