Motherwell: Trevor Carson 'out of pocket' after Northern Ireland debut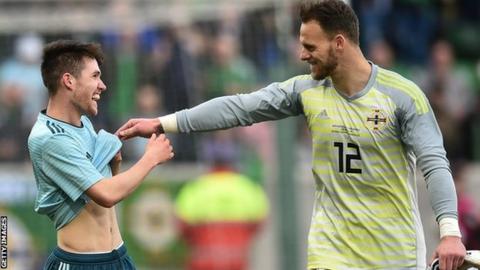 Motherwell goalkeeper Trevor Carson jokes that making his long-awaited international debut for Northern Ireland left him out of pocket.
The 30-year-old earned his first cap in the 2-1 victory against South Korea.
"It was an emotional time for the whole family; I had 26 people there [at Windsor Park] and I had to buy 19 tickets," he said with a smile.
"After my match fee I think I was a tenner down. It was amazing coming out for the national anthem."
Carson had been named in 12 previous Northern Ireland squads but had yet to make his international debut.
"I could see all my family and my mum was in bits. I was a bit emotional myself, but you have to compose yourself for the game," he added.
''Going into the game there was a bit of apprehension, a bit of the unknown. You don't know how you're going to react, but a couple of minutes in I felt right at home."
'Icing on the cake'
Back home in the small County Down village of Killyleagh where Carson hails from, there are plans to add his image to a mural featuring the three other internationals raised there, including former Rangers striker David Healy.
Carson describes that as "the icing on the cake" of his international recognition. ''It's such a small village I'm from and through the years I've had to rely on going round the doors to get sponsorship to go on trials to places, and rely on local businesses to get me gloves and boots to go away on trails.
"They're all happy and genuinely happy for you to do well.''
The goalkeeper admits he thought he might never realise his dream of representing his country.
''There were times when I thought it wasn't meant to be with Northern Ireland, but it was a nice feeling to go back to my mum's house after the game and talk about all the sacrifices everybody had to make. But to get a feeling like that, it was worth those sacrifices.''
After almost a decade playing in England's lower leagues with the likes of Hartlepool United and Cheltenham Town, Carson says his move to the Scottish Premiership has played a big part in him becoming an international.
''The platform up here is amazing," Carson added. "I don't think I've played any better in this past year than I have in the last three or four. It's just that I'm doing it at this level and getting the exposure I'm getting, playing against big teams like Rangers and Celtic and getting to a [League] cup final, it's boosting my profile.
''It's probably panned out better than I could have imagined. In my head the plan was to do well in the first year and get into the summer squads [for the friendlies against Panama and Costa Rica] and get that first cap, but to get it ahead of schedule is fantastic.''
Motherwell face Rangers this weekend and will be buoyed by their draw with Celtic before the international break.
''Rangers is a massive game," he added. "We think it's a winnable game for us. If we can take the same intensity and work rate into it as we did in the Celtic game, we think we have a good chance.''