Charlie Adam: Snus is big in the game, says Stoke midfielder
Last updated on .From the section Football
Tobacco pouches called snus are "the in thing" in British football, says Stoke City midfielder Charlie Adam.
Snus sales have been illegal in the UK since 1992 and it is on the World Anti-Doping Agency's watchlist, though it is not banned for enhancing performance.
A Daily Mail investigation claimed it is prevalent among footballers.
"It's big in the game. It's come from Scandinavia and a lot of players are using it," Adam told BBC Radio 5 live.
"I've never tried it but I see lads every day take it. It's the norm at the moment in the game. It's not just the Premier League but the Championship, League One, League Two, Scotland."
Manchester City boss Pep Guardiola said on Friday that the club doctor has spoken to his squad about it - although there is no suggestion that any of his players are using snus.
"I don't know the benefits, the pleasure of that. The doctor spoke with the players. I know about that only this morning when the doctor came into my office to talk about that," said the Spanish manager.
Leicester City striker Jamie Vardy has previously admitted to using the nicotine pouches.
He wrote in his autobiography: "When I joined Leicester I started using snus, which are nicotine patches that you place against your gums for 10 minutes or so.
"I used to have the odd fag on a night out at Fleetwood, but one of the lads introduced me to snus when I signed for Leicester and I found they helped me chill out.
"A lot more footballers use them than people realise, and some lads even play with them during matches."
The Football Association (FA) has reiterated its commitment to warning players of the dangers of legal highs.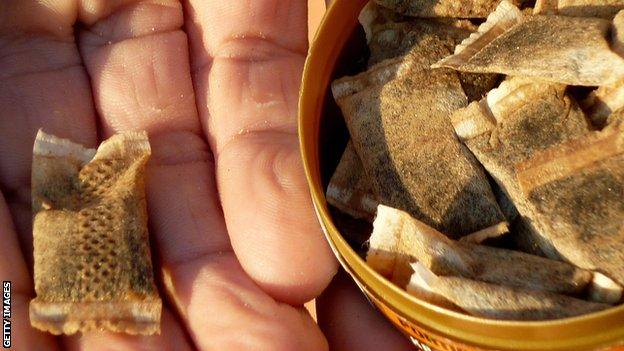 'I don't wish bad things for anyone'
Meanwhile, Guardiola was also asked in his Friday news conference about the current situation with Catalonia's ex-leader Carles Puigdemont, who was arrested in Germany earlier this week.
After the news of his arrest broke on Sunday, thousands of demonstrators poured on to the streets of Barcelona.
Guardiola has often been seen wearing a yellow ribbon on the touchline to show support for imprisoned politicians in his native Catalonia. He was recently fined £20,000 by the FA for "wearing a political message" during the FA Cup defeat by Wigan.
"Like everyone else who doesn't wish bad things for anyone - and the families - I am obviously worried," he said.
"All the messages from the people, from the politicians, from the former president, they have always done it through peace and democracy. They might not agree with our ideas but everyone saw what happened.
"Hopefully the situation will sort itself out."