Chris McLaughlin's words of the weekend: Stephen Robinson's refreshing honesty

By Chris McLaughlin
BBC Scotland
Last updated on .From the section Scottish Premiership
BBC Scotland's senior football reporter, Chris McLaughlin, analyses a talking point from the weekend's action, asking what's behind the words.
"I've seen the penalty that was given against us. Elliott Frear got the ball, but we haven't lost three points because of the referee."
Motherwell manager Stephen Robinson after Saturday's 2-2 draw with Rangers at Fir Park
It's a reporter's job to mine truth and honesty from the most delicate and awkward of situations. Even in the entertainment business, it's a rule that stands.
Honesty does not, however, always lead to the best entertainment. Stay with me - there's a point coming. Contentious decisions in football matches are what makes pitch-side reporters tick. Quite simply - they can turn a standard interview into, well, something more entertaining.
But, after Rangers were awarded a soft penalty against Motherwell, allowing them back into a game they were losing 2-0, Stephen Robinson broke from the managerial norm, embraced complete honesty and left my post-match interview lacking a little in entertainment. I wasn't complaining - it was refreshing and I know others felt exactly the same.
During a period of mistrust and unease between officials and managers in Scottish football, the Motherwell boss may just have played a crucial part in easing simmering tensions.
Robinson's ability to philosophically focus on his side's failing rather than that of man in the middle Nick Walsh will come as a welcome relief to those who have been growing ever exasperated by recent criticism.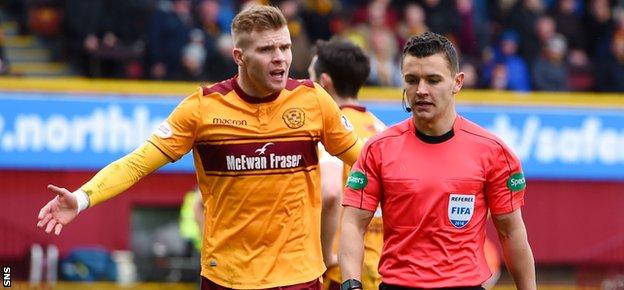 It was never heading for a repeat of 2010, when relations completely fell apart and then Scottish FA chief executive Stewart Regan called in officials from overseas, but the current crop have been far from happy.
Earlier this month, Robinson himself had a tickle at calling out Craig Thompson. The referee had just sent packing his fifth Motherwell player of the season. Remember Cedric Kipre's lazy 'kick out' at Celtic captain Scott Brown?
The red card was downgraded to a yellow, but immediately after the game, Robinson suggested, without actually saying it, that Thompson may well have a problem with his players.
Across the M8, Hibs head coach Neil Lennon has also had his issues with officials. He was given a three-match ban for confronting Kevin Clancy during his side's 2-2 draw with Kilmarnock.
Are the clashes and complaints becoming more frequent? Probably not, but the accumulation of high-profile incidents in such a short space of time has left fuses shorter than usual on both sides.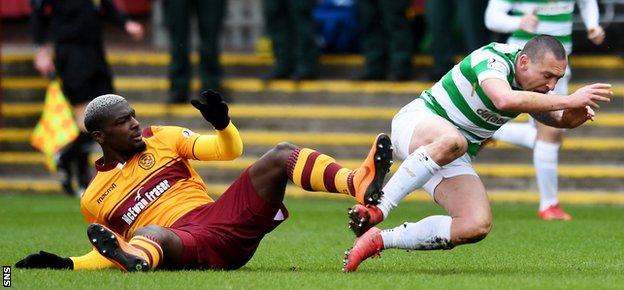 The man in the middle and his merry men should never be above reproach. Those of us who consume football on a regular basis know referees and assistants get things wrong, sometimes very wrong, but is the current group worse than what came before?
Former grade one referee Steven Conroy recently told BBC Sportsound that that particular question has been asked of every batch of officials stretching back as long he can remember - he has a point.
A number of managers and coaches have privately expressed their concerns to me recently about the current standard - I had the same conversations with their predecessors 20 years ago.
But I don't buy it that refereeing ability has plummeted. Neither do I believe respect from managers for officials has deteriorated.
Both arguments are lazy and based on little. Finding myself in the no-man's land between both technical areas on most Saturday afternoons, I see and hear first hand how things play out in that particular regard.
Quite often it's not pretty. The language can often be choice at best and it's not uncommon to see coaches acting in a fairly aggressive way towards the fourth official, but there's also humour and respect.
Broken down simply, these guys see each other a lot during very tense times and, like most relationships, there can be periods of turbulence and volatility.
In terms of the Motherwell manager's most recent comments, it's the nature and not just the sentiment that will be welcomed by officials.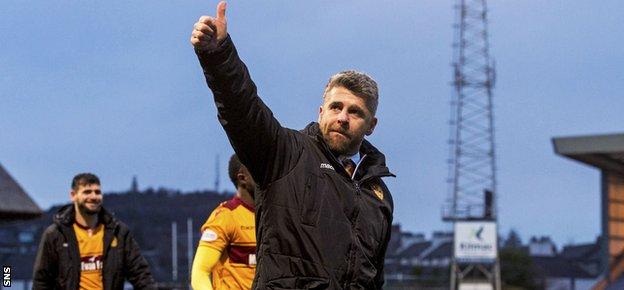 Referees don't speak to the media, officially, but privately they have one particular gripe regarding managerial criticism: I didn't cost you the game, your players did.
When chances are inexplicably passed up and goalkeepers drop clangers, the referee can only hold his counsel as the manager gives both barrels about that dodgy penalty claim.
Robinson has been a very impressive operator since stepping up at Fir Park. He's as sharp with his media duties as he is with his tactics and the decision to play down this weekend's particular controversy will have been thought through.
No matter the thinking and strategy, it gets the thumbs up, if not from the reporters, then certainly the referees.