Jimmy Floyd Hasselbaink: Northampton Town boss will 'fight to end' of relegation battle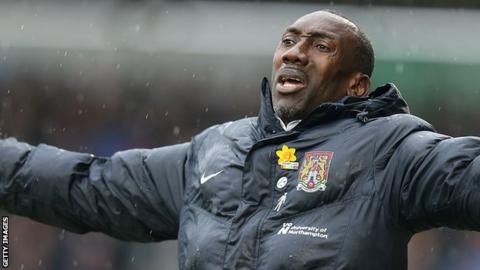 Manager Jimmy Floyd Hasselbaink says he will "fight until the bitter end" if he is given the chance to keep Northampton Town in League One.
The Cobblers lost 2-0 at Peterborough on Monday and are two points from safety, having played at least one more game than all of their rivals.
"I'm very confident that we can do it because that's the kind of person that I am," the former Leeds and Chelsea striker told BBC Radio Northampton.
"I'm not somebody that gives up."
The 46-year-old added: "I have always had to fight in my career and I will always say it is possible. I will fight until the bitter end.
"Is it difficult (to stay up)? Yes, but it is possible and we need to believe."
Northampton have not won any of their past nine league matches and have five games remaining to secure their League One status.
Asked if he believed he was the right man to keep Northampton up, he answered: "If I'm allowed to carry on, I will carry on.
"You know how football is and it's not up to me. You're asking me if I'm still the right man and I can give you an answer on that, but it's not up to me.
"I can only do my best for the club. They are good people in charge, but also obviously they want success and I know how it works.
"I can only do the right thing and I'm doing the right thing day in, day out. It will turn, because we are doing the right thing. It has to turn very quickly obviously, but we are doing the right thing."
'They've seen a team that fought today'
Hasselbaink was pleased with Northampton's display against Posh but his side could not force their first win since 10 February, leading a section of travelling supporters to call for his removal.
"The fans are entitled to say what they want," said the former Netherlands international. "They can say what they feel and that's their prerogative and I accept that.
"The only thing I can say is I will not give up. I don't think you need somebody in charge that wants to give up.
"Do the players want me out? I don't think so.
"I understand what the fans are saying. If you judge me on today, I think that's a bit unfair. If you judge me on (Friday's 4-0 home loss to) Charlton, they have something to criticise me for.
"I think they've seen a team that fought today, especially in the first half, and seen a team that wanted to make them proud.
"Mistakes were made but before it was 1-0 I heard them cheering and being happy, and let's not forget that."