Biggleswade Town: 'Mystery goalkeeper' says he has never been to Poland
Last updated on .From the section Football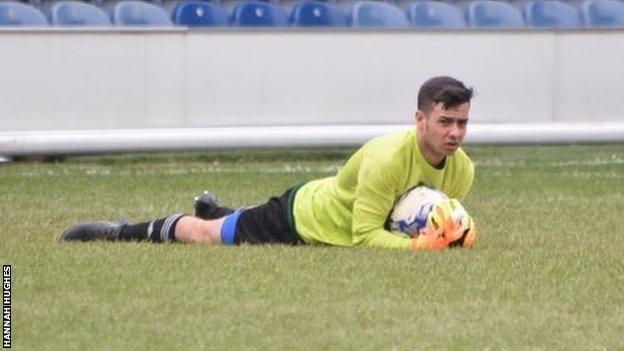 Biggleswade Town's goalkeeper crisis has taken a new twist after their third-choice keeper, who the club suggested had returned to Poland, said he had never been there in his life.
With two keepers injured before last Saturday's game at Gosport, the Bedfordshire side's only remaining option was teenager Boris Dubicki, who has not played a competitive match for the club.
But they told the Southern League Premier Division that Dubicki was out of the country, and therefore unavailable, as they sought permission for an emergency loan signing.
The request was turned down and winger Craig Daniel played in goal in a 1-1 draw - but it has since emerged 18-year-old Dubicki has been living in neighbouring Hertfordshire all along.
Biggleswade deny intentionally misleading the league about his whereabouts, saying they informed them where Dubicki was as soon as they were able to contact him.
Southern League chairman Terry Barratt said his Biggleswade counterpart Maurice Dorrington will send them "a full explanation of the chain of events" before deciding whether to give The Waders dispensation to bring in short-term goalkeeping cover.
'I've never even been to Poland'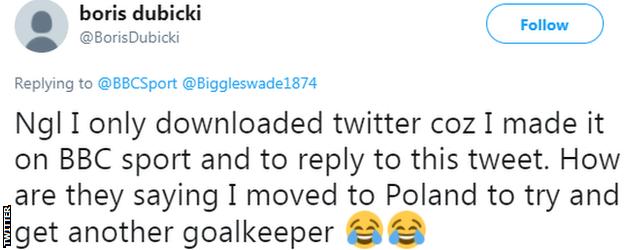 Dubicki signed for Biggleswade last summer and featured in pre-season friendlies before losing contact with the semi-professional side, who nevertheless retained his registration.
As a result, when injuries to Liam Gooch and Sam Donkin left manager Chris Nunn without a recognised keeper for the game at Gosport, the league would not give the club dispensation to sign a replacement keeper outside of the transfer window.
Nunn said there had been a "rumour" that Dubicki was in Poland, but apologised for the confusion.
"I thought 'why would I be in Poland?' - I'm in England, I've never even been to Poland," Dubicki, who works as a builder, told BBC Sport.
"I'm assuming they said that so they could get an emergency goalkeeper.
"It's just the way they've gone about it and lied about it. It's good media attention for them, but I just don't get why they've lied."
Dubicki, who no longer wants to play for the club, contacted BBC Three Counties Radio to out himself as the "mystery goalkeeper".
He said: "I made a Twitter page on Monday just to reply to it. I've been like a minor celebrity for a couple days."
'Why would we make this up?'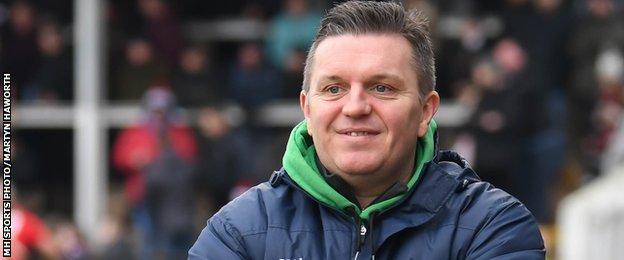 Biggleswade were again set to field an outfielder in goal for their trip to Tiverton on Wednesday, but the game was postponed because of a waterlogged pitch.
And Nunn insists the whole situation has simply been a mix-up.
"There was a rumour he was in Poland, but at that point I didn't have his number and hadn't spoken to him," he told BBC Sport.
"I then got his number and spoke to him, but he didn't want to play for me.
"We're not trying to pull wool over anyone's eyes - why would we make this up?
"If we've caused him any problems we're sorry, it's not intentional."