Ray Wilkins: Football pays tribute to a 'genuinely lovely man'
Last updated on .From the section Football286
Ray Wilkins was a "genuinely lovely man" who was "liked by everybody", says former England striker Gary Lineker.
Football has been paying tribute to former England and Chelsea midfielder Wilkins, who died aged 61 on Wednesday.
Former team-mates described a "superb footballer", others spoke of "a friend for life", or praised his passion for helping others to excel.
"One thing that shines through is what a wonderful human being he was," Lineker said.
The Match of the Day presenter, who played alongside Wilkins for England, told BBC Sport he had "great memories of Ray as a team-mate and broadcasting with him as well".
"He was just a delightfully charming man. He always very positive, and someone who was massively supportive when I first broke into the national team.
"He was a really talented player and had success not only in this country but also internationally. He lived for the game and he loved the game."
As a player, Wilkins also had spells with Manchester United, AC Milan, Paris St-Germain, Rangers and QPR during a career that spanned 24 years.
He played 84 times for England, captaining his country on 10 occasions, and after retiring he was a manager with QPR, Fulham and the Jordan national team.
He was also Chelsea assistant coach from 2008 until 2010, working alongside Guus Hiddink and Carlo Ancelotti.
Wilkins, who had also been working as a TV and radio pundit, suffered poor health in recent years and had double bypass heart surgery in July 2017.
He died in hospital in south London, four days after suffering cardiac arrest.
His family has thanked "Ray's friends, colleagues and members of the public" for the many messages of goodwill they have received.
'He brought light and fun and laughter'
England manager Gareth Southgate, who was with Wilkins during the latter's brief spell at Crystal Palace, described him as "a true friend and a gentleman".
"Ray was a great ambassador for the game, a proud Englishman who loved playing for his country," he said.
"When he played with us you could immediately see that his technical ability to play the ball was phenomenal. In the modern game, those attributes would have been appreciated far more than they were at that time, so he really was a top player."
Ex-England captain Terry Butcher told BBC Radio 5 live: "Words can't describe how much light and fun and laughter he brought to football."
He added: "I'm still pretty choked thinking about his passing. You don't expect Ray to go at 61. I know he had some health problems but the last time I saw him - about two weeks ago - he seemed so full of life. He was a wonderful man.
"He mixed with the fans and he loved having a laugh. He never called me Terry, he always called me 'Big Stuff' and he called everyone else 'geezer'. His energy and brightness would light up any room."
Ex-England keeper Peter Shilton, another international team-mate, said he was "devastated" by the news of Wilkins' death.
"He loved football, he was a connoisseur of the game, he was articulate and was a leader on and off the pitch," he said. "He was a great lad, Ray."
'A real human being with such class'
In an Instagram post paying tribute to his former manager, ex-QPR midfielder Nigel Quashie told the story of how Wilkins gave him his debut against Manchester United at Old Trafford.
I will always be proud to say how lucky I am to have been coached, managed and even to have met you. If it wasn't for you I would never have started my career playing football and I will never forget going to Manchester United as a YTS trainee to do all the kit and boots in the changing room for the first-team squad.
One hour and 30 minutes before kick-off you name the team and I was in it, and that's how my debut went. I didn't even get to think about it because all you said was: you're number 18, here are your boots and shin pads, just go and play, have fun and treat it like you're over the park with your mates.
My mum never had a mobile phone back then because we couldn't afford anything like that and everything went through her work or home phone. I asked you after the game if I could call home to speak to her. You said use my mobile and call this number - it was my mum on the other end of the line and she said she was outside by the away team bus.
I went outside to see her and asked how did you get here because I knew she couldn't afford it. She told me Ray had got the club to pay for her train ticket to come to the game and then told me Ray got the club to give us our first mobile phone in life during the week and he wanted to surprise me, knowing I was making my debut.
I was given a chance by Ray Wilkins, one of the legends of the game, and to this day you are the first person I mention when it comes to football and that will never change. You will be missed so much not just in the football world but as a real human being with such class. Thanks for everything and my thoughts go to all the family. Sleep well Sir Ray Wilkins.
'An elegant, visionary midfield player'
BBC Sport chief football writer Phil McNulty
Wilkins' career was characterised by maturity and dignity, which was recognised early in his time at Chelsea, where he made his debut as a 17-year-old in October 1973 before being awarded the captaincy at just 18 by then manager Eddie McCreadie.
He went on to make his England debut in the Bicentennial Tournament against Italy in New York City in May 1976 and had a burgeoning reputation as one of the young pin-up boys of English football, as well as one of its most promising talents.
Wilkins led a group of emerging Chelsea youngsters back into the top flight, but once they were relegated again it became inevitable that top-flight clubs would pounce. So it proved as he signed for Manchester United in August 1979.
He acquired an unfair reputation for a conservative playing style, with one cruel nickname of 'The Crab' mocking his supposed preference for sideways passes.
Those who actually played with Wilkins thought differently and spoke of an elegant, visionary midfield player and leader, whose abilities were underrated, as evidenced by the calibre of clubs who were always keen to secure his services.
READ MORE: Farewell to a footballing nomad and an 'absolute gentleman'
'The dark days that never showed'
Wilkins had admitted struggling with alcohol problems in the past and he went through a five-week rehabilitation programme in the Priory Hospital in Woking in 2016, following a four-year ban for drink-driving.
Peter Reid, another of his former England team-mates, told BBC Sport: "The beauty about Ray was that we knew he had demons, problems, but you would never have guessed it.
"His politeness, his manner, was outstanding. Yes, there must have been dark days for Ray but it never ever showed. We had a heart-to-heart when we had a few drinks once or twice but predominantly he talked about football because he was football crackers.
"He always had class, that brilliant smile and that brilliant sun tan. Against me, mister pasty, he always looked brilliant and he always was brilliant."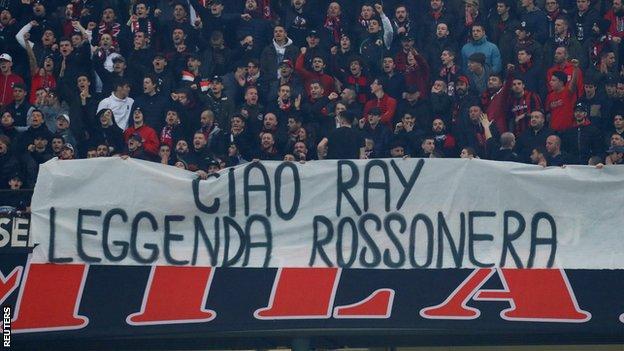 Former Chelsea and England midfielder Frank Lampard: "Devastated to hear the news that Ray Wilkins has passed away. He was a great player and an even greater man. Full of kindness and humility, with impeccable manners at all times. He had respect and time for everyone and to me he was a mentor and a friend. I'm not sure they make them like Ray anymore. You will be sorely missed fella."
Former Manchester United manager Sir Alex Ferguson: "Ray was a great football man, who was well respected and liked by all who knew him and he always had a kind word and time for people.
"Ray was an impressive football talent and had a fantastic career representing some of the biggest clubs in the world. He will be missed by us all."
Ex-Liverpool defender Mark Lawrenson: "Was only two weeks ago I was with Ray in Brighton... Feel empty. Much love to all the family... Life is cruel..RIP BUD......"
Former AC Milan defender Franco Baresi: "In these moments you never know what to say, but it was an honour to have you as a companion. You were special, a gentleman on the field and off. Thank you Ray Wilkins RIP."
Former Manchester United goalkeeper Peter Schmeichel: "Sad and choked to hear of the passing of Ray Wilkins. A true football person with a totally underestimated contribution to our sport. One of the best I've seen. My thought are with his family. Rest in peace."
Ex-England winger Chris Waddle: "So sorry to hear about Ray Wilkins - a great player and a true gentleman RIP."
Former England striker Alan Shearer: "So sad to hear the news about Ray Wilkins. He lived for and loved football. I was lucky enough to have worked with him and he was always a true gentleman. He will be sorely missed by so many. #RIPRay."
Ex-England midfielder Paul Gascoigne: "Such a great loss, he was such a gentleman - an unbelievable player."
Former Manchester United team-mate Mickey Thomas on BBC Radio Wales: "He was a great guy, one unbelievable man.
"He became an instant star at Chelsea and when he went to Old Trafford in a big-money move there was a lot of pressure on him. He found it difficult initially but he won the fans over and became a legend there - he became a legend wherever he played.
"In today's game, money couldn't buy him - he was a gifted individual, such a talented footballer."
League Managers' Association chairman Howard Wilkinson: "Ray lived and breathed football his whole career. As a player, he was a leader on the pitch and he instilled his beliefs and values into his coaching, helping a vast number of players understand what it meant to win games of football at the highest level.
"Ray has been a stalwart of the LMA for many years. His energy and love of the game were his biggest strengths. As well as being a manager in his own right, he became one of the most supportive and trusted assistant managers in the Premier League, providing a sounding board to many managers in the past 20 years and achieving great successes with his boyhood club, Chelsea.
"Many things come to mind when I think of Ray but, above all, no matter what the circumstances, he remained a true gentleman."
Aston Villa midfielder Jack Grealish: "So upset to hear the news of Ray Wilkins. RIP Ray. Even when Ray left Villa, he was always ringing me offering advice and telling me what I could do to improve. A true gentleman and one of the nicest guys I've ever met."
Former England, Manchester United and QPR defender Rio Ferdinand: "RIP Ray Wilkins. Always so humble & softly spoken whenever I saw him. Genuine lovely guy. Watched him live at Loftus Road many times for QPR. What a great passer & teacher of the game for any young kids who watched him."