Carlos Carvalhal: Swansea City manager in talks to extend deal
Last updated on .From the section Swansea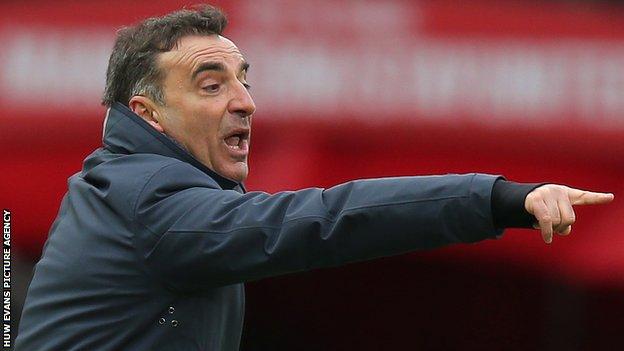 Swansea City have held informal talks with manager Carlos Carvalhal about extending his contract.
The Portuguese manager said his only focus at the moment is on keeping Swansea city in the top flight.
"This is the most important thing. My personal situation is not important," said Carvalhal.
Under the former Sheffield Wednesday boss, the Swans have climbed up to 15th place in the Premier League table.
After winning his first game in charge at Watford, Carvalhal has guided Swansea to victories over Liverpool, Arsenal, Burnley and West Ham.
"I am happy here as I have said all the time. That will not be a problem," said Carvalhal.
"I like the players, I like the chairman, I like the owners of the club also. I have a good relations with all of them.
"I like the fans and I think they like me also."
It is thought Swansea have an option to extend his stay, with Carvalhal winning five of his 11 league games in charge.
"I don't plan things, I'm an instinctive person," he added.
"I like to do the best in the moment, because i know if I do my best in the present, I don't have any kind of fear about the future."
The Portuguese manager has won praise within the club for his impact and positivity since taking charge, with club chiefs open to the well-travelled Portuguese remaining in charge.
Carvalhal has previously played down the significance of his existing short-term agreement and said he was eager to "prove his abilities" at Swansea.
"I am relaxed," said Carvalhal. "But I never sign more than one-year contracts. At Sheffield Wednesday they proposed three years, I said. 'No I don't want that, I prefer one season, you analyse my work'.
"I trust in my work and if everything is fine, we can extend one more year."
The work he's done is 'miraculous'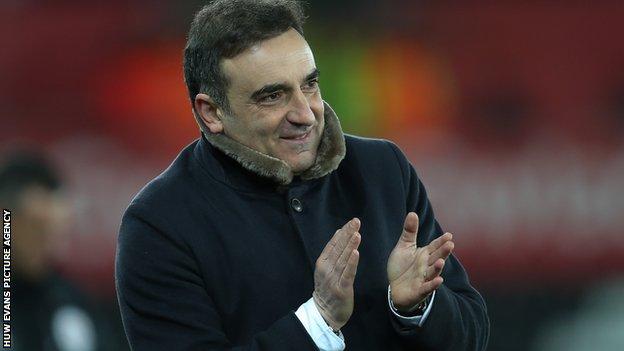 Swansea's Dutch defender Mike van der Hoorn said Carvalhal is deserving of a new contract for what he has achieved at the club since arriving.
"It's not up to me but why not? If he keeps us up when we were five points off (safety) it's a really big achievement," said Van der Hoorn. "For now he's doing a great job."
Former Swansea city and Wales international Owain Tudur Jones echoed the opinions of Van der Hoorn.
"The work he has done has been miraculous," said Jones. "If there is a manager throughout the league who deserves a new contract he is that man.
"It's not done yet, they're not safe, but what the club has shown is they have faith in him and even if they go on a bad run and get relegated he has done enough to show the club he is more than good enough to get Swansea back up."
On Saturday, Swansea travel to face bottom side West Bromwich Albion, who parted company with manager Alan Pardew earlier this week.