Liverpool v Man City: 'Pep Guardiola's fears are realised at thunderous Anfield'

By Phil McNulty
Chief football writer
Last updated on .From the section European Football1533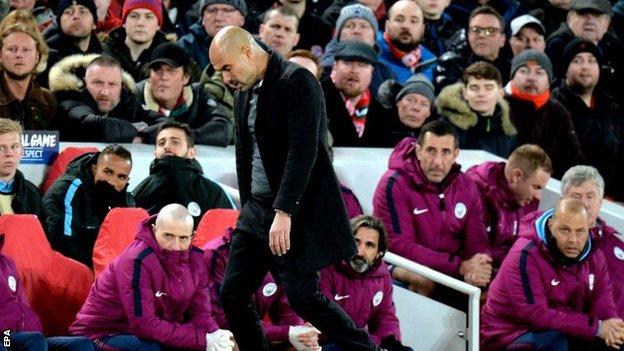 Pep Guardiola hinted at what was to come at a thunderous Anfield when he admitted Manchester City were the "perfect" opponents for Liverpool in the Champions League quarter-finals.
It was not an attempt at reverse psychology by Guardiola but an acknowledgement that if one team's style is built to destroy City's smooth rhythms and potency it is Liverpool's high-octane approach under Jurgen Klopp.
And so it proved as all Guardiola's fears were realised and lightning struck twice for the Premier League champions elect in the first leg.
The only defeat on their relentless march to the title, a 4-3 loss at Anfield in January, was followed by an even more emphatic beating on an atmospheric night of pure theatre that leaves Liverpool with a commanding three-goal advantage to take to Etihad Stadium next Tuesday.
Liverpool and their fans celebrated wildly and understandably so at the final whistle - but the darker side on this night must not be ignored.
City's team coach was badly damaged as it was 'welcomed' by Liverpool fans. It was unusable for the post-match return journey after coming under attack from bottles, cans and pyrotechnics before the game.
Liverpool swiftly apologised "unreservedly" and Merseyside Police - who condemned the attack as "appalling" - began an investigation. But what was arguably most disturbing of all was this so-called greeting had been flagged up on social media in advance of the game and drawn concern from City, yet was still seemingly impossible to stop.
It is also impossible to measure what sort of impact it had on City's players - but this was an unsavoury and potentially dangerous incident which must somehow be avoided in future.
Guardiola, who was asked about this potential incident at his pre-match media briefing, said: "Yesterday you explained - and I am new here - that it is going to happen. Normally when the police know it is going to happen they try to avoid it from happening.
"I did not expect that from the Liverpool side, their people. One year ago something happened in Dortmund so we come here to play football and I don't understand this kind of situation.
"The bus is destroyed but I did not expect a prestigious club like Liverpool doing this sort of thing. It is not Liverpool, it is the people, but hopefully it does not happen again."
It was the start of a grim and uncomfortable night for Guardiola and City at the hands of a manager and team that has the weaponry to become their most troublesome adversaries.
Inside Anfield, the atmosphere and volume was exactly what we have come to expect when the Champions League edges towards its sharp end - and City cracked first amid the cacophony of noise.
Their obvious attempt to draw the sting from Liverpool and the sound from the Kop had actually started quite well, but they caved in quite alarmingly once Mohamed Salah - who else? - put Klopp's side ahead after 12 minutes.
Liverpool were all over City like a rash. David Silva was hurried in possession in a fashion rarely seen this season while the normally assured Ederson was suddenly making panicky punches. He has only looked uncertain and perturbed twice this season - both at Anfield.
As Liverpool turned up the pressure, City's flaws, concealed for most of this season, were suddenly exposed.
Aymeric Laporte was out of his depth at left-back while Nicolas Otamendi rolled back the years, or at least the year, to suddenly look like the struggler of old who has given way to such a commanding figure before this game.
Anfield was baying as Alex Oxlade-Chamberlain and Sadio Mane gave Liverpool a lead after only 31 minutes that was beyond even their most optimistic forecasts. City were rattling and resembled a boxer staggering to his corner as they went off for half-time.
Inevitably, City had more of the possession after the break but Anfield's occasionally noisy nervousness was aided by uncharacteristic sloppiness from the visitors. Guardiola's side could not muster a shot on target and Liverpool keeper Loris Karius had a comfortable night.
How City missed the clinical ruthlessness of the injured Sergio Aguero on the rare occasions they managed to cause anxiety in the home side's penalty area.
Liverpool's momentum and threat was reduced by the loss of the injured Salah, and Klopp betrayed some unease as he danced a jig of fury in his technical area while pleading with his team not to drop too deep.
As some of City's players shrunk in Anfield's white heat, so many of Liverpool's rose to the occasion.
James Milner was a rock-solid midfield presence, crucially making City cough up possession for Oxlade-Chamberlain's goal, while Roberto Firmino's influence made him an outstanding contributor.
The Brazilian's tireless tracking and willingness to run every channel sometimes overshadows the elegance of his approach. Salah and Mane may claim more headlines, but Firmino's influence is just as great, as it was again here.
As Klopp celebrated in front of the Kop and pumped his fists at the Main Stand before disappearing down the tunnel, he was reflecting on a lead even he and his Liverpool players could not have expected.
City, angry at the attack on their coach and frustrated by the paucity and timidity of their performance, are left with a shot at redemption at Etihad Stadium.
It is within their capability - but it is a very long shot.