EFL Trophy: Danny Cowley relishes Wembley first for Lincoln City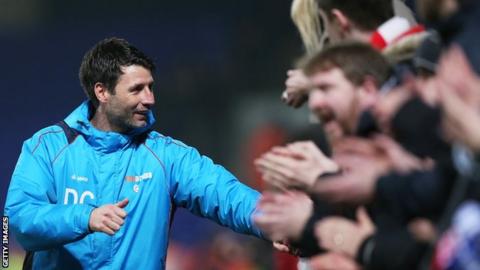 There's a refreshingly grounded manner about Danny Cowley.
It's not an affectation; it shines through in everything the Lincoln City boss says - about his approach to his life outside football, as well as his philosophy as a manager.
If he had a slightly-inflated opinion of himself it would be understandable.
Less than two years into his two-year contract, the 39-year-old's impact at the Imps has been phenomenal.
Cowley and younger brother and assistant manager Nicky - or "joint manager" as Danny refers to him - have led the club back to the Football League in their first season in charge and are in the hunt for promotion from League Two.
Last season they reached the quarter-finals of the FA Cup, becoming the first non-league side to do so in 103 years.
On top of that the Cowleys are about to take Lincoln to Wembley for the first time in the club's 133-year history. More than 26,000 Lincoln fans will make the journey for Sunday's Checkatrade Trophy final against League One side Shrewsbury.
The football could hardly have gone better, but seemingly life away from the pitch, and the long commute from his Essex home, has proved more of a challenge.
"The plan is to try to move the family up here in the summer because I am living between two places which is not easy," Cowley told BBC Sport.
"It puts pressure on your family life. Nicky and I have both got young children and you end up being an average football manager and a terrible parent, which lives on your conscience."
Champions, FA Cup glory, Wembley and... promotion?
The way he so fondly talks about his former career as a teacher would suggest his parenting skills to football-mad Isabel - "eight, going on 18. She scares me!" - and four-year-old George, are anything but terrible.
And the bare facts do not support the "average football manager" claim.
Back-to-back wins over Easter - the third and fourth win in six undefeated matches - have taken Lincoln to sixth in League Two.
With six games to go and a game in hand on Wycombe, who are in third place but only seven points clear, successive automatic promotions are not totally out of the question.
But Cowley is not thinking beyond the top seven for now.
"If we can get into the play-offs, it will supersede what we did last year - particularly having got to Wembley," Cowley added.
Cowley's managerial journey to League One promotion contenders started long before he was forced to retire at the age of 29 because of injury.
"I played a lot of non-league football and was always frustrated by the quality of coaching and the quality of provision for non-league players," he explained.
When he carried on playing through an "innocuous hamstring injury" with Hornchurch closing in on a treble he got into management a lot quicker than he wanted.
"I didn't see the end coming," he said. "I didn't think anything of it, but because I carried on I ruptured the tendon."
Eighteen months and 27 injections later, including countless trips from Essex to Leicester for treatment, Cowley needed something to "fill the void".
"I went through a mourning period because I loved it," he said. "It was horrible."
He was soon back studying and combining football management with teaching at The FitzWimarc School in Rayleigh.
Money talks
Average gates the season before the Cowleys joined were 2,594. Now they are 8,691
Last season, the club's turnover trebled to just over £4.5m
The FA Cup run in 2016-17 helped the Imps record a pre-tax profit of £1.3m
Reaching the final of the EFL Trophy has generated around £1m through gate receipts and prize money
More than 26,000 Wembley tickets have been sold, more than the total for both the club's appearances at the Principality Stadium
"I lived nine years as a non-league manager working as a head of PE in a very successful school," he said.
"I look at the skills I have developed as a teacher and loads are transferable.
"We were voted state school of the year in 2013. I look at the things I have achieved and that would be right up there, without a doubt, because we were just a comprehensive school.
"The kids were all local and would train before school like professionals.
"They had a real allegiance with the school. They knew they had to behave because if they didn't they wouldn't play. It was a really successful time."
Doubling up at work was gruelling but it taught him plenty.
The universal language of naughty
"Kids are brilliant," he said. "I would come in early and be tired some mornings but they give you so much energy and so much back.
"You look at naughty school kids and naughty footballers and there is very little difference. They want rules and boundaries. They want consistency.
"The key is always to make sure they know you have their best interests at heart and if they know that they will allow you to be strict."
His playing experiences helped him no end for his first job at Essex side Concord Rangers where he won three promotions.
"I wanted to take all the excuses out of the players and give them the very best environment within the restrictions of non-league football," he said.
Cowley was also quick to call in favours from "mates" - the most notable being his brother.
"Nicky was captain and we got promoted," Cowley senior explained. "He scored 27 goals and the next year I paid him less.
"I needed more money for new players. But winning was always more important than money to Nicky so it was fine."
Nicky, three years Danny's junior, obviously does not hold grudges. The loyalty is something no amount of cash can buy.
"We have real trust which is hard to find in football," Cowley said. "We know each other inside out and are used to living in each other's pockets.
"He's strongly opinionated and I am the same but we always find a middle ground because we want what's best for the players and the football club.
"Our titles are irrelevant. We bounce off each other and have a chemistry that works."
After defying the odds to guide Braintree Town to the National League play-offs in his first season, the Cowleys were courted by Lincoln and the chemistry has continued to work wonders.
They saw the "potential" from the off and have "just tried to bring in energy, enthusiasm and a bit of direction".
"We looked at this club and couldn't believe it had spent five years in the National League and hadn't finished above 13th," Cowley added.
A proud Yellowbelly
His accent continues to have an unmistakeable Essex tone, but Cowley is very much embracing life as a "Yellowbelly" in his adopted county.
His new surroundings and all that goes with it are a significant part of the appeal, even though when he took the job he "never planned to move up".
"We have been able to get buy-in from the people," he said. "It's a wonderful place because there is such an allegiance to the city and county. People are so proud to be Lincoln."
Cowley has been linked with various jobs in recent months, notably as successor to Mick McCarthy at Ipswich Town in the summer, but he wants to repay the loyalty the Lincoln supporters have shown him.
"Against Crewe this season, we were terrible, but after 86 or 87 minutes the fans were still singing our names," he said.
"Loyalty is not common in football and it's a shame. When you have it, you have to use it your advantage. We are proud of having that relationship with our supporters and I will never forget it.
"If you support a Premier League club you are supporting them through a window in the 21st century.
"Here the difference is we can get out and they can see we are honest, down-to-earth boys. Because we have done that we have been able to create that connection."
A big part of the reward will be the club's first Wembley trip this weekend.
But it is far from just being a nice day out against a team pushing for promotion to the Championship. Shrewsbury are second in League One, 28 places higher in the English pyramid than the Imps, but Cowley has high expectations.
"This is a really important step in our journey," he said. "Our older supporters tell us about the Graham Taylor era and the Keith Alexander era and the Colin Murphy era and being taken to their first game.
"What we want this Wembley experience to be is that in 30-40 years there will be adults telling the Lincoln City manager about the first game they went to being at Wembley and their mum or dad taking them to Wembley.
"Days like Sunday can create lifelong supporters and that is why we have put so much focus on this competition. This was part of the script."
Analysis
Michael Hortin, BBC Radio Lincolnshire's Lincoln City commentator
Inside two years Lincoln City have been reinvigorated. The reason for that is Danny and Nicky Cowley, supported by an ambitious board and rapidly growing fan base.
Danny is seen by Imps supporters as the heir to Graham Taylor. And in Lincoln you don't get a much higher compliment. Success on the pitch has been matched by a continual engagement with fans.
Away against Southport, the final game in the National League, Danny must have spent 30 minutes shaking hands with hundreds of people after the game. He always has time for supporters.
On the pitch Lincoln have an organised and resilient style of play. Some opponents label them direct. That may be the case, but it is with a very clear purpose. When you talk to the players, they know exactly what is required. A lack of information and direction is not a problem.
Two years ago, 3,000 was considered a good gate. Now the average is close to 9,000. The Cowleys have unleashed a pent-up desire, many of us, myself included, didn't know was there.