'Bullets sent in post to three key figures at Italian Referees' Association'
Last updated on .From the section European Football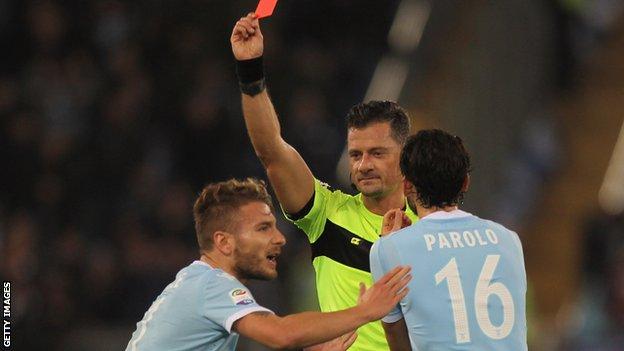 Bullets have been sent in the post to three key figures at the Italian Referees' Association, according to its president.
Marcello Nicchi said envelopes had been sent to him, the body's vice president Narciso Pisacreta and to referee selector Nicola Rizzoli.
Police are now investigating, he said.
Nicchi also condemned recent comments in which a TV journalist claimed referees had "declared a war against the people".
"There is a journalist who said in a broadcast: 'They have declared war on a people and in war you do not play the whistle, you are shooting. You have to shoot the referees and not allow them to referee,'" he said.
"This is the consequence."
Last month, hundreds of Lazio fans demonstrated in front of the Italian Football Association's headquarters, claiming their team had been the victim of numerous mistakes by officials and the video assistant referee (VAR) this season.
Serie A is among the European competitions where VAR is being trialled.
In England, the system has been used in the FA Cup and at last month's England friendly match against Italy.
In March, Fifa approved the use of VAR at this summer's World Cup in Russia - the first time it will be employed at the tournament.