Robbie Simpson: Exeter City player on helping people find post-sport careers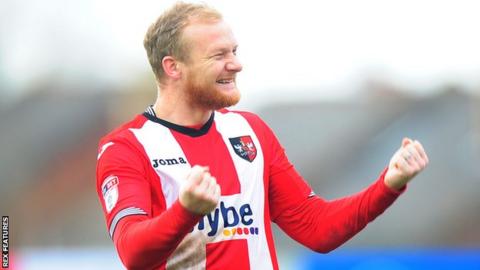 As he walked off the training field on a sunny April day on the outskirts of Exeter, the last thing on Robbie Simpson's mind appeared to be retirement.
A couple of days earlier, the 33-year-old striker marked his first start in more than 13 months with a goal as the promotion-chasing Grecians came from 1-0 down to beat Cheltenham.
He had been out with a badly broken leg and his time on the sidelines allowed him to focus on his other passion - LAPS.
Life After Professional Sport is a careers service set up by the former Coventry, Cambridge and Leyton Orient striker, for whom now-Premier League club Huddersfield paid £300,000 in 2009.
"It's never too early to plan for life after sport because you really never know when it's going to come to an end," Simpson, whose Exeter side face Coventry in Monday's League Two play-off final at Wembley, told BBC Sport.
"Only three out of 10 sportspeople choose when they retire, so that speaks volumes. There is a real importance to prepare for that time when it comes."
Only '10%' of qualified coaches find jobs
Simpson already has his Uefa B coaching qualification, but says his degree in Sports Science and Maths may well be more useful for his future career.
"I asked the educator how many are doing Uefa B this year, he said 2,000," he said.
"I asked how many coaching jobs are there going, he replied 'probably 10% of that'. There's lots of coaches and not too many coaching jobs.
"I understand the want to maybe stay in football, but there's other ways you can stay in football such as marketing or event management."
Simpson's post-football future
With football being such a uncompromising business, Simpson says it is important players have skills that can be transferred off the pitch.
"First and foremost, find another interest away from sport and look at what careers that interest can take you into," he said.
"See what qualifications you might need to forge a career in whatever you're interested in and have a path really.
"Plan a timeline, you might want to achieve certain qualifications by the time you're 27. If you think you're going to retire when you're 35, have a plan in place for when you're 35 so you've got the option to retire or not to retire."
Having had over a year to convalesce, has Simpson decided on his own plan once his time on the pitch is over?
Not yet, but he is at least practising what he is preaching and looking at jobs that match his off-field qualifications.
"I hope LAPS does well enough that potentially I could go full-time with that," he added.
"I've got a real interest in finance, so I'll probably look to the finance sector and think of what roles within it I'd like to get stuck into."