Sam Clucas: Carvalhal surprised midfielder struggled at Swansea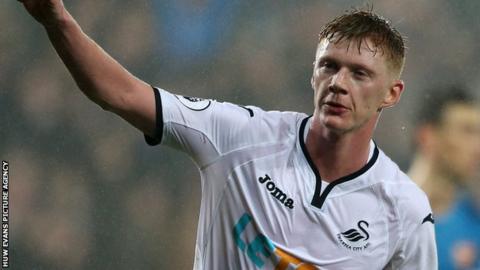 Swansea City manager Carlos Carvalhal says he was surprised to learn Sam Clucas had struggled for form at the club before his arrival.
Midfielder Clucas, 28, was criticised by fans for performances following his £15m-plus move from Hull in August.
But Carvalhal insists he did not have to rebuild Clucas' confidence, adding he has long been a fan of him.
"If he was bad at the start of the season that is the surprise, because he is a player I wanted," said Carvalhal.
The former Sheffield Wednesday boss said he tried to sign Clucas during his time at Hillsborough following play-off final defeat to a Hull team featuring the Glenn Hoddle Academy product.
"He's a player I liked, so it's not a surprise," Carvalhal told BBC Sport Wales.
"If there is a surprise it will be if there was a negative impact at the beginning, not what he's doing now."
Carvalhal says Clucas is "100% ready" to play in a crunch survival fixture for Swansea as they take on bottom-placed West Brom at the Hawthorns.
Clucas limped off during the second-half of last weekend's defeat to Manchester United amid fears of a knee ligament injury, but scans revealed no significant damage.
"I'm very happy he's recovered because he's an important player in our dynamic," he said.
"He's half midfielder, half attacker, half defender - he's a guy and a half!
"He's an important player and we have found a good position for him where he can enjoy the game.
"In that position he can attack, because he can score goals, and he can defend very well also.
"This kind of players are very clever the way they play. He found the space to play and is enjoying and paying very well.
"I think we found a balance between his qualities and what the team needed - he is a piece to complete the puzzle in that position."
Clucas' upturn in form follows significant improvements in the performances of Jordan Ayew and others in a Swansea side who have won five games from Carvalhal's 11 league games in charge, a run that has prompted informal discussions over extending his short-term contract.
The 52-year-old Portuguese says there is no secret to his success with individuals, with the key being to make them happy.
"If you are asking players to go against the abilities that they have, they are not happy," he explained.
"If you find a system to put players into a system where they are doing the things they like, they are confident; this is something very positive.
"After this, you must create a good dynamic so the players improve the quality and win confidence.
"This is the way. A mix of these things and results, of course, is very important. Maybe it is the base of everything."