Celtic: Scott Brown surprised at leniency of Andrew Davies red card ban
By Andy Campbell
BBC Sport Scotland
Last updated on .From the section Celtic
Celtic captain Scott Brown says he would have expected more than a two-match ban had he committed the foul he sustained against Ross County skipper Andrew Davies.
Brown, who has not received an apology from Davies, joked that after the foul he "didn't want more kids anyway".
However, the midfielder insists the incident is now "in the past".
Davies received an automatic two-match ban for his dismissal but was spared further punishment by the Scottish FA.
"There's been a few [bad challenges against him in his career] but that's definitely up there," Brown added. "Usually they get a few games more of a ban but it wasn't to be and it's in the past now.
"He's a centre-half and I didn't get that far up the park, so nothing had happened beforehand - I think he maybe just miss-timed it badly.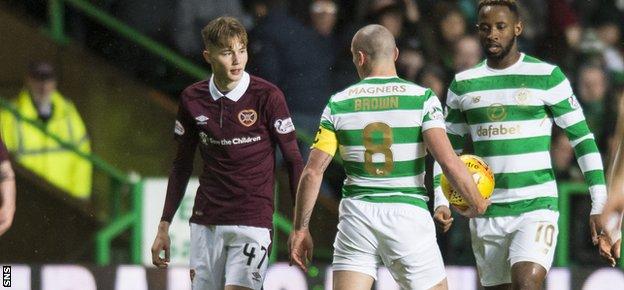 "There's been a couple of harsh tackles in the last few games but I don't know if it's on me or if it's just people miss-timing them really really badly."
When asked if he thought Davies should have received a longer ban, Brown added: "That's not for me to say, that's for the SFA to discuss and sort out, but if I would've done that it would've been a lot worse, it would've been in the papers for weeks on end and I'd have been getting a five or six game ban.
"For me, you want to tackle hard and you want to win the ball, it's a contact sport, and there's a fair way to go about it, but stamping on opponents when the ball is nowhere near you is definitely not being a hard man or going into a hard tackle.
"People lose their head now and then, I understand that, it happens in football, but for stamping when the ball is nowhere near you, especially where he stamped, wasn't pleasant at the time."
Hearts manager Craig Levein recently criticised Brown for a challenge on Tynecastle teenager Harry Cochrane, but the Celtic skipper says he pays no attention to such things.
"There have been a lot of comments about me recently but I just get on and do my job," he added. "I enjoy playing football and I'm lucky enough to come in to a great club and be winning trophies.
"I enjoy the tackles, I enjoy people getting touch tight to me, saying they're better players than me, and I keep coming back and proving them all wrong - it's part and parcel of who I am."