Man Utd: Jose Mourinho backing for youth players surprises Nicky Butt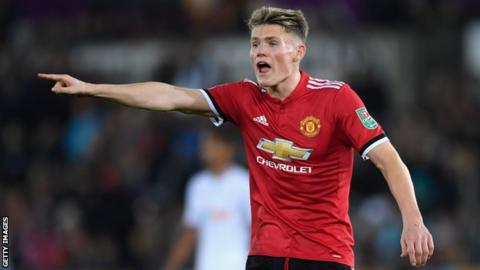 Manchester United manager Jose Mourinho has "massively surprised" head of academy Nicky Butt with how much he has backed the youth players.
Every senior matchday squad since 1937 has contained a home-grown player.
However, Mourinho has been accused of ignoring younger players in previous jobs.
"It is far away from the truth. He is really engaged and speaks to me nearly every day," former United midfielder Butt told BBC Sport.
"It has surprised me massively because you hear all the stories about him not being interested in the academy."
Among Mourinho's major successes at United are Jesse Lingard and Scott McTominay, two of four home-grown players who could start Saturday's Premier League match at Manchester City.
Lingard, 25, has been one of United's players of the season, while fellow midfielder McTominay, 21, has played nine league matches this term.
Former Chelsea, Real Madrid and Inter Milan boss Mourinho, who replaced Louis van Gaal at Old Trafford in 2016, has called young players into his first-team squad for training, including twice this week.
He also spent half an hour with the under-14 squad before they went on tour to Portugal recently.
Butt, a member of United's 'Class of 92', won six Premier League titles, three FA Cups and a Champions League in his eight years at the club, before returning to Old Trafford as a coach in 2012 and taking over as academy boss in 2016.
The 43-year-old said: "The manager is interested in good players. He either gets them from the academy or he goes and buys them.
"He might have been a bit unsure about Scott when he first went up there. We all were, let's be honest.
"But what he has done with him is something all the kids can look to, and I can't ask any more of him than that."
Manchester City will win the Premier League title if they beat second-placed United in the Manchester derby on Saturday at 17:30 BST.