Nuno showed 'lack of class' as Cardiff lose to Wolves - Warnock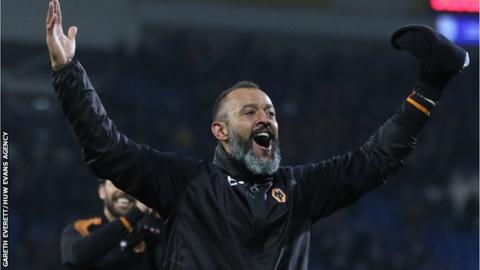 Cardiff manager Neil Warnock refused Wolves counterpart Nuno Espirito Santo's apology after the two clashed at the end of a dramatic encounter.
Cardiff missed two stoppage-time penalties as they lost 1-0 to the Championship leaders on Friday.
Nuno did not shake Warnock's hand as he joined in Wolves' celebrations at the final whistle, for which he apologised afterwards.
"I don't accept it at all," said Warnock.
"They've had a great win and I thought it showed a lack of class.
"I went to shake his hand and he ran off. If that's how they're taught in Portugal then fair enough, but not in Britain.
"I don't want to speak to him. He can say anything after the game - I'm talking about when the whistle goes, what he should do, the etiquette, the manners, the class.
"They've won the game. They should shake your hand and say unlucky or something, not run off like that and rub your noses in it. A disgrace."
Wolves' win extended their lead at the top of the Championship to nine points, while Cardiff remain second, five points clear of Fulham in third.
After an evenly paced 90 minutes in which Wolves deservedly led through Ruben Neves' excellent free-kick, the match came to life in added time.
Cardiff were awarded their first penalty when Conor Coady bundled Anthony Pilkington over in the box, but Gary Madine had a weak low penalty saved by John Ruddy.
Remarkably, a minute later, Aron Gunnarsson was fouled by Ivan Cavaleiro for a second spot-kick, only for Junior Hoilett to strike it against the bar.
The final whistle was blown seconds later and Wolves' coaches and substitutes spilled on to the pitch to celebrate wildly.
Nuno neglected to shake Warnock's hand in doing so but, after being accused of a "lack of class" by his counterpart, the Wolves manager was defiant.
"It's nothing to do with etiquette, nothing to do with manners," said the Portuguese, who also failed to shake the hand of Tony Pulis after his side's victory against Middlesbrough last week.
"I've been involved in football many years. I had the chance to speak with one of his assistants and he said: 'In Britain we have this habit [of shaking hands after a game]'.
"I understand, I'm sorry. I will try to avoid it but last year I was coaching in the Champions League and I'm very proud of coaching in the Championship and nobody can doubt my education, me being respectful.
"I'm sorry, I say it publicly. If he wants attend my office, I will say the exact words 'I'm sorry, Neil' but I came to Britain, I must adapt, I will try to.
"But nobody can ever say I'm not a respectful person."