Man Utd deserve more respect - Jose Mourinho after beating Man City
Last updated on .From the section Premier League412
Manchester United manager Jose Mourinho says his side "deserve a bit more respect" after they fought back from two goals down to beat Manchester City and delay their neighbours' Premier League coronation.
However, they produced a memorable comeback at Etihad Stadium to win 3-2.
"I think we are a bit better than people think," said Mourinho.
"The players are a bit better than people think and I am a bit better than people think.
"We deserve a bit more respect than people give."
A victory for Manchester City in the derby would have secured the Premier League title on Saturday.
Pep Guardiola's side will now need to win at Tottenham next Saturday and hope Manchester United lose at home to West Brom the day after to be confirmed as champions next weekend.
The win for United means they remain second, but are now four points ahead of third-placed Liverpool with a game in hand after Jurgen Klopp's side drew with Everton in the Merseyside derby earlier on Saturday.
Mourinho revealed he congratulated Guardiola after the game on winning the title - even if it is not yet mathematically confirmed.
"Of course they are frustrated because they wanted to do it today, but I congratulate them for the title because they are going to win and deservedly," he added.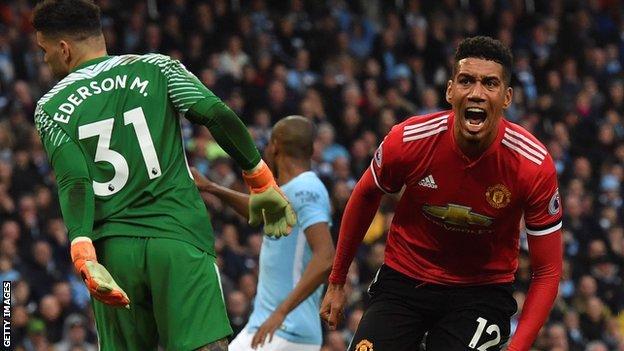 Manchester United defender Chris Smalling scored the winner after two quick goals by Paul Pogba cancelled out first-half strikes by Vincent Kompany and Ilkay Gundogan.
Smalling said a few words from Mourinho during the half-time interval helped inspire them to victory.
The England international said: "The manager didn't have to say much at half-time as we knew ourselves as players it was a poor performance.
"He said that we didn't want to be the clowns standing there watching them get their title. City have been fantastic here all season, but we stepped up and won the game."
Special day for Man Utd a pity - Guardiola
Guardiola was keen to move on from the defeat, especially with the crucial Champions League quarter-final second leg against Liverpool coming up on Tuesday.
City face an uphill task to reach the last four after a 3-0 first-leg defeat at Anfield on Wednesday.
"We will try to pick ourselves up for Liverpool, we are professionals," he said.
"It is a special day for United, which is a pity. We did absolutely everything in the first half but then for 10-15 minutes we conceded goals. It is what it is, but we move forward.
"We played with courage and created so many chances. Some penalties in the first half, some in the second half, but we have to improve."
Mourinho praises 'phenomenal' Pogba
Twenty-four hours before Saturday's derby Guardiola said that Paul Pogba's agent, Mino Raiola, had contacted him in January to say Pogba was available to buy.
The 25-year-old Frenchman joined Manchester United for a then world record £89m in 2016 but has been linked with a move away from the club this summer.
Mourinho said he was impressed by Pogba's display, adding: "I didn't even speak to him about what Pep and Raiola said. I am not interested in that.
"I know and everybody knows that he had some performances not at the level we expect from Paul but he is improving, against Swansea I was happy and today him, Nemanja Matic and Ander Herrera were phenomenal for 90 minutes."
Pogba, meanwhile, said the desire not to see Manchester City celebrating a title win was the inspiration behind his performance.
"I didn't want to lose against City," he said. "If they won they are champions, for all the fans it would be like death.
"To lose against City and to see them celebrate, I couldn't let that happen. At half-time in the dressing room we said we have nothing to lose - 2-0, let's make it."