Man City 2-3 Man Utd: Paul Pogba goes from 'passive' to 'his best 45 minutes'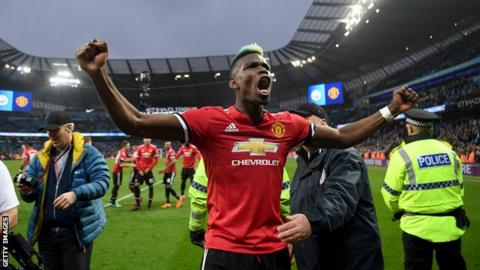 It has been a mixed season for Paul Pogba, but the Manchester United midfielder stole the show in the derby against Manchester City.
The France international, 25, was dropped for both legs of the recent Champions League last-16 tie against Sevilla, which fuelled talk of a falling-out with manager Jose Mourinho.
A day before the Manchester derby, City manager Pep Guardiola made the shocking claim that he had been offered the chance to sign Pogba in January.
Pogba's response? He scored twice in three second-half minutes to spark a remarkable United comeback from 2-0 down to beat City 3-2 at Etihad Stadium on Saturday and delay their rivals' title celebrations.
'All the attributes to be a top-class player'
The hosts went 2-0 ahead after half an hour through Vincent Kompany and Ilkay Gundogan, before Pogba's double and Chris Smalling's winner in the second half.
Former Wales and Leicester City midfielder Robbie Savage described Pogba's second-half performance as his "best 45 minutes in a Manchester United shirt" and said "big players step up to the mark".
Ex-England, Chelsea and Manchester City midfielder Frank Lampard said on Match of the Day: "A lot has been spoken about him all season, for good and for bad.
"The first half was negative of Pogba - he did not threaten the midfield or the backline and was passive.
"Sometimes he has a tendency to trot around - there are no drastic movements. He is sometimes over-elaborate in midfield - it invites pressure and puts his team in trouble.
"In the second we saw a different player. He can play with responsibility and get into goalscoring positions.
"If he does that more, he has all the attributes do it and score more regularly. He can be that top-class player he is threatening to be."
What about the hair?
Pogba's ever-changing hairstyles continues to be a talking point and he was sporting a blue streak against City.
Lampard said "with that haircut you need to perform", while former Manchester United full-back Gary Neville called it "ridiculous".
Working on the game for Sky Sports, Neville said: "I like him - he is a good player - but he does not help himself.
"If you are a wise individual, you don't attract attention when things are not going your way. Pogba does not work like that. He has got a big job to do; he has got to prove he is serious about his football.
"Coming here with blue hair today, win it is fine, lose and that is going to get mentioned forever more."
'City win would be like death'
Guardiola said in his news conference on Friday that there was "no way" a deal for Pogba would be possible because he would be "so expensive".
Pogba's agent Mino Raiola told BBC Sport he did not speak to Guardiola but did not deny telling City of the players' availability.
Mourinho joked after the derby win that Pogba's "price has gone up", while Pogba celebrated in front of the United fans after the game and seemed to make a gesture telling them not to listen to any speculation.
Pogba told Sky Sports the 2-1 defeat by City at Old Trafford last season "is still in my mind" and added: "If they won they are champions, for all the fans it would be like death.
"To lose against City and to see them celebrate, I couldn't let that happen."
Mourinho said: "I was impressed but I don't know because I didn't even speak with him about what Pep told and what Raiola told.
"Of course, two goals for a midfield player in a big match like this one stays in the memory of the people, especially the fans.
"He needs that confidence because he knows - I know - he had some performances not at the level of expectation we have from Paul, but he is improving."