Man City 2-3 Man Utd: How Manchester derby collapse put title party on hold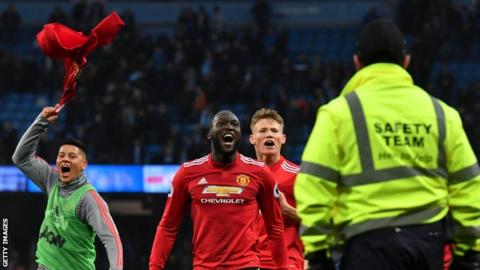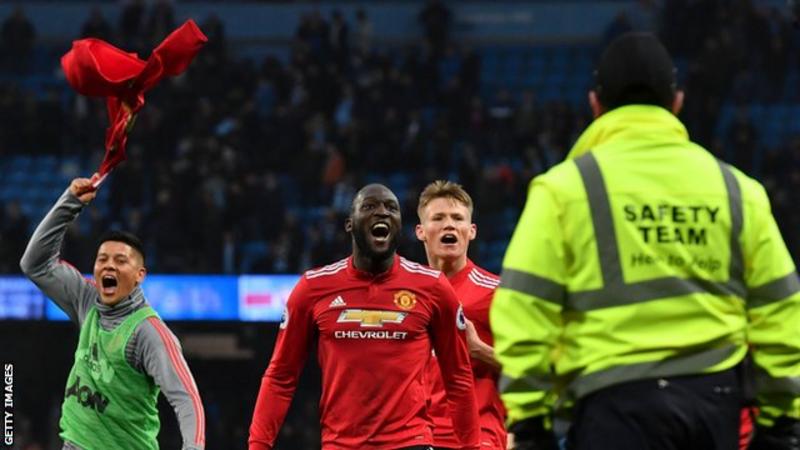 Manchester City's champagne football got the party started. Etihad Stadium stood to applaud their Premier League champions-elect. The countdown to the coronation stood at 45 minutes.
Pep Guardiola's side only needed the sweetest of victories over Jose Mourinho's Manchester United to secure the title.
City went into this derby with a 16-point lead so the triumph is a formality - but they and their fans wanted it now, a show of power and glory they could parade in front of their neighbours.
As blue smoke swirled around the stadium from a flare and United and their supporters were being subjected to a range of cruel taunts, it seemed nothing could deny City their wish as they led 2-0 at half time with goals from Vincent Kompany and Ilkay Gundogan.
The cloud in this silver lining was that City would somehow not bring the title even closer.
Raheem Sterling's old uncertainty in front of goal, absent this season, suddenly returned and his two missed chances ended up as decisive moments in a most unlikely turn of events.
United's fans had been forced to take this all on the chin, as had Mourinho, who stood motionless in his overcoat while Guardiola cast aside his own version and was down to his stylish jumper as he prowled the technical area.
And at the heart of all of United's struggles was £89m man Paul Pogba.
Pogba's fragile relationship with Mourinho has come under forensic examination during his absences from the side and he was in the headlines again when Guardiola, in the middle of a public exchange of views with his agent Mino Raiola, said he had been offered the player in January.
So it was in keeping with an almost surreal turnaround in the game, the atmosphere inside the Etihad and mood among the respective sets of supporters that Pogba turned match-winner.
The leggy midfielder did not look like a player who would cross Guardiola's thoughts, either as a danger or potential acquisition, in a first 45 minutes in which United were dazzled and bewildered by City's brilliance.
And yet, for all that glitter, a frailty has suddenly appeared in City - shown by conceding three goals in 19 minutes while losing 3-0 to Liverpool in the Champions League quarter-final first leg at Anfield on Wednesday - and when Pogba and United blew, the house fell down.
Pogba's first goal after 53 minutes raised mild anxiety among the previously exultant City support.
His second, headed in two minutes later, created an air of panic. And United's third from Chris Smalling was greeted with disbelief, probably even from the visiting fans.
The soundtrack of celebration from the first half was now a noise of desperation.
The volume was increased by a clear injustice when referee Martin Atkinson ignored a nasty follow through from Ashley Young that floored substitute Sergio Aguero in the area as City chased an equaliser.
United goalkeeper David de Gea demonstrated his world-class ability with a brilliant save from Aguero before the curtain came down on 90 minutes that almost suspended belief and turned the hope of the home support upside down into despair.
The title will be won but there were wider factors at play.
For all the inevitability of City's eventual confirmation of their third Premier League title, there was genuine disappointment and frustration from their supporters that it was not achieved with United in opposition.
City are still holding a 13-point lead in the title race with six games left and yet it was their supporters with head in hands, some in tears, as the fans of a team that has trailed in their slipstream all season celebrated wildly.
It was symbolic of a day that was brilliantly chaotic and defied all logic.
Premier League titles should never be won with an air of anti-climax. How City would have liked to have won it against United, not merely for the symbolism of confirming their superiority in the city and in domestic football, but as the perfect lead-in to Tuesday's Champions League quarter-final second leg against Liverpool, when they must chase down that three-goal deficit.
It has only been City's own vast superiority that has opened up this prospect but the reaction of some of their supporters at the end illustrated this was a damaging day, allowing United to restore some pride and remind their neighbours they are still in town.
The feeling is unlikely to last long but it was there all the same.
Guardiola and City will be champions and they must put the disappointment of defeat in context by Tuesday when they confront their task against Jurgen Klopp's Liverpool.
But there must be serious concerns that the return of the former fragility in defence threatens their attempt at a comeback.
City's Premier League campaign, spectacular and wonderfully entertaining, deserves only joy and celebration when they are finally crowned champions.
This would have been the perfect moment.
United and Mourinho ensured Guardiola and City were not having that moment at their expense.