Celtic: Brendan Rodgers says Old Firm league decider should be embraced
Last updated on .From the section Celtic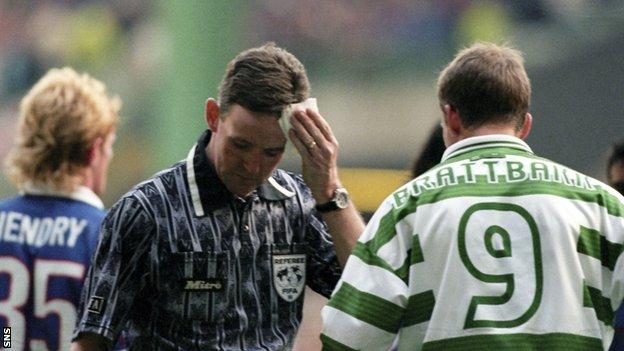 Celtic's Brendan Rodgers thinks the Scottish Professional Football League should embrace rather than avoid a possible title decider against Rangers.
The governing body is mulling over the last round of Premiership fixtures as the top flight splits into two.
But it will look to avoid a potentially troublesome Glasgow derby when Celtic can secure a seventh consecutive title.
"I think it's sad for Scottish football and it's sad for society in Scotland," Rodgers said.
"In probably any other country in the world, they would look to play the game and showcase your football and country on telly - whether it was Real Madrid v Barcelona, Manchester United v Manchester City or AC Milan v Inter.
"But, for some reason, we can't do that here which is a sad indictment of the world that it is here at times."
Celtic's 2-1 victory over Hamilton Academical on Sunday means that Rodgers' side are 13 points ahead of Rangers and Aberdeen.
They are one win away from retaining the title and could do so in their first game after the split, with the SPFL poised to announce the fixtures early this week.
Scotland's football authorities have tried to avoid such a scenario coinciding with an Old Firm derby since trouble flared when Rangers won the league at Celtic Park in 1999 - before the split had been introduced to Scottish football.
Hugh Dallas, father of Andrew Dallas, who refereed Celtic's game at Hamilton on Sunday, was injured by a missile amid some stormy scenes, with Celtic later fined £45,000 for the disturbances.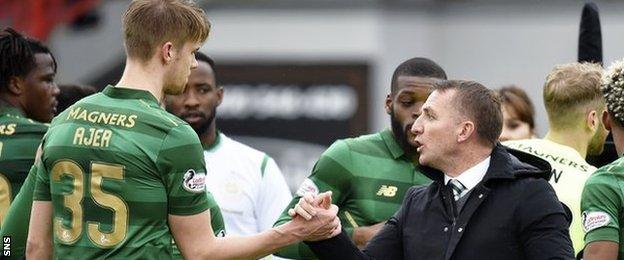 But Rodgers said: "Let's live and learn. I know they are trying to avoid what happened in 1999, but it's been a long time since then.
"You have to show that football and society has changed for the better and you can make it work.
"Hopefully they will do that - if that's what they want to do and not just try and avoid it.
"Scotland is a wonderful country with passionate supporters, so make it a great advert - let's not run away from it.
"They should do it and put it at an appropriate kick-off time and trust that people can behave themselves and play the game and show it as a great advert for Scottish football.
"Don't bury your head in the sand and hope things don't happen."
Celtic took the lead against Accies after only three minutes through Callum McGregor, Rakish Bingham equalised then Leigh Griffiths scored the winner after home midfielder Darren Lyon was sent off.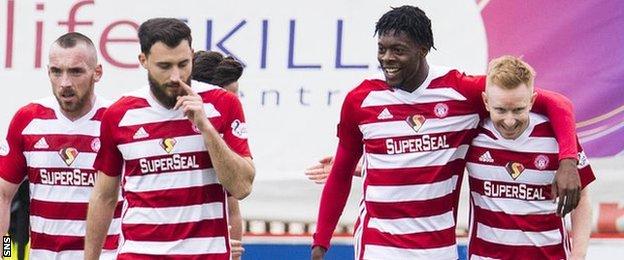 Bingham punished a moment of slackness from Norwegian defender Kristoffer Ajer, but Rodgers said it was part of the 19-year-old's learning process.
"We have so many young players that are learning the game and Kris has been absolutely fantastic," Rodgers said.
"He just switched off for that moment, squared himself up and a quick player will get in behind you. He'll learn from that."
Rodgers was happy to take the points, despite a lacklustre display, ahead of Sunday's Scottish Cup semi-final against Rangers.
"It was a good win for us on the back of three tough games this week," the manager said. "At the end of a long season, it was always going to be a difficult game with Hamilton fighting to stay in the league and us fighting to ensure we get over the line as quick as we can.
"It's been a real challenging season for us physically and the boys have been brilliant."