Hamilton Academical: Martin Canning frustrated at Darren Lyon red card
Last updated on .From the section Hamilton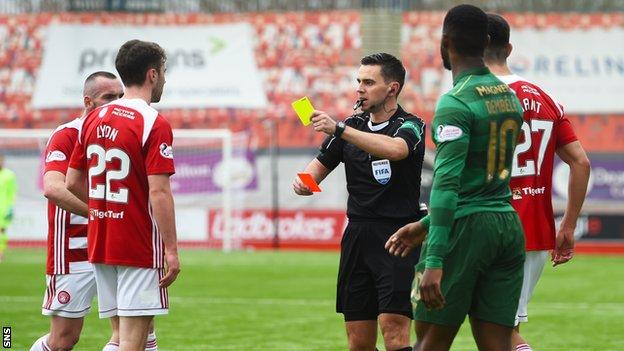 Referee Andrew Dallas was wrong to send off Darren Lyon in the 2-1 defeat by Celtic, according to Hamilton Academical manager Martin Canning.
Lyon received a second yellow card for a challenge on Kieran Tierney with the scores at 1-1 in the first half.
"Tierney has come flying into Darren Lyon, Darren Lyon has pushed him away and I don't think there's anything in it at all that should justify a second yellow card," Canning said.
"It's a huge game-changer at 1-1."
Celtic's win means they are now only one victory from securing a seventh successive title and they started quickly in Lanarkshire on Sunday.
Callum McGregor fired them into an early lead, but Rakish Bingham squared it before Lyon saw red, having picked up his two yellow cards in quick succession.
Substitute Leigh Griffiths nodded in the winner at the start of the second half and Canning was convinced it could have been different.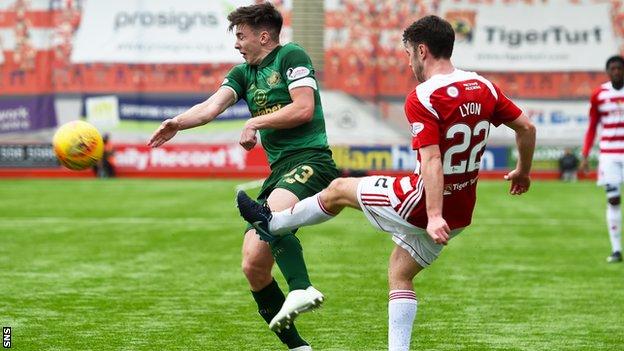 "For the second game in a row, we've had a really soft second yellow card and it's frustrating because I don't think if it had been the other way around it would be the same result," he added.
"The referee could have used a bit of experience and maybe calmed the game down. I didn't even see it as a flashpoint.
"I know we're only 'wee Hamilton' and it doesn't really matter, but it matters to me.
"It's such a soft yellow card and it changes the dynamic of the game.
"Albeit Celtic were dominating the game and we were playing on the counter, but I thought we were a threat when we went forward.
"It's a big, big moment in the game. On the back of a yellow 30 seconds before, I think the referee is far too quick to brandish a second yellow card.
"I don't think he could've seen it properly, because if he has, I don't think you can make the same decision."
Canning praised the "terrific" effort of his players but admitted they had let themselves down defensively.
"The goals are really cheap," he said. "We know Celtic start games quickly and the first is a poor one to concede.
"The second one is even worse, so from that point of view, and I've said to the players, that is the black mark against the performance."
Accies are four points above the relegation play-off spot and face Kilmarnock on Saturday ahead of the Premiership split, with Canning very clear about what is required from his charges.
"We're in a position where we need to win games, it's that simple," he said.
"The same as the teams around about us, every one of us needs to go and pick up points.
"We have Kilmarnock before the split and it's the biggest game of the season for us by far, it's a huge game and we need to make sure we're ready to go on Saturday."