Garth's Team of the Week: Hart, Smalling, Pogba, Eriksen, Zaha

By Garth Crooks
Football analyst
Last updated on .From the section Premier League

There were Premier League wins this weekend for Manchester United, whose remarkable comeback prevented Manchester City winning the title on derby day, as well as Tottenham, Arsenal, Burnley and Newcastle.
West Ham earned a valuable point at Chelsea, Bournemouth scored late to deny Crystal Palace victory and the Merseyside derby at Goodison Park finished goalless.
But who did enough to make my team of the week?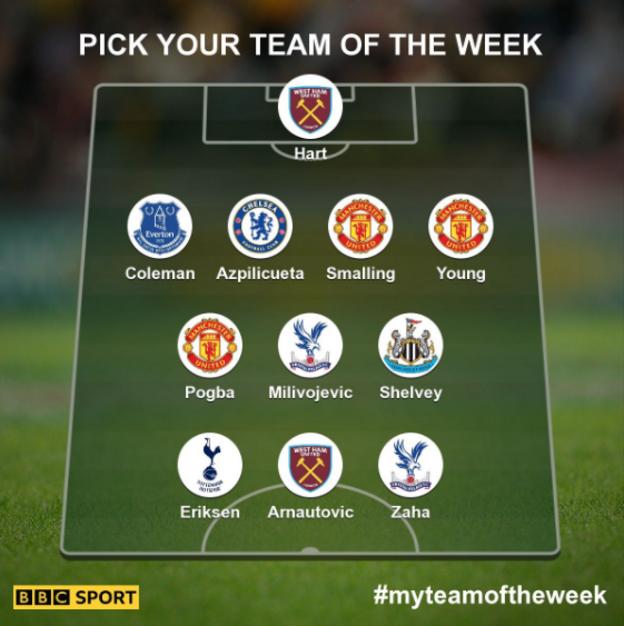 Goalkeeper - Joe Hart (West Ham)
What a performance by Joe Hart. If he keeps playing like this he could solve England boss Gareth Southgate's first-choice goalkeeping conundrum for the World Cup. Hart made three world-class saves against Chelsea. His stops from William and Olivier Giroud kept the Hammers in the game, but the save from Marcos Alonso was simply sensational.
I could have selected Jordan Pickford, Nick Pope or Jack Butland this week, but this was the Hart I saw win league titles and FA Cups with Manchester City. Keep this up Joe, and you're back in the big time.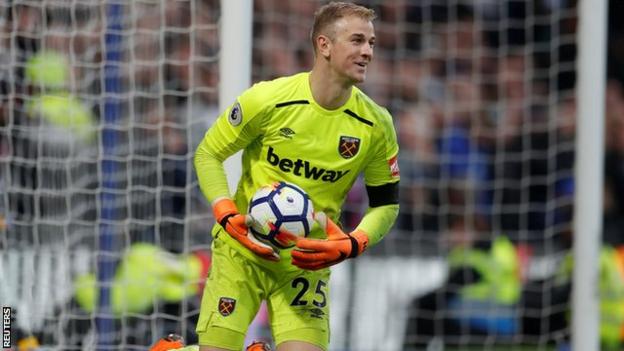 Did you know? Hart made five saves, his most in a Premier League game since November against Watford, helping West Ham earn a draw at Stamford Bridge.
Defenders - Seamus Coleman (Everton), Ashley Young (Manchester United), Chris Smalling (Manchester United), Cesar Azpilicueta (Chelsea)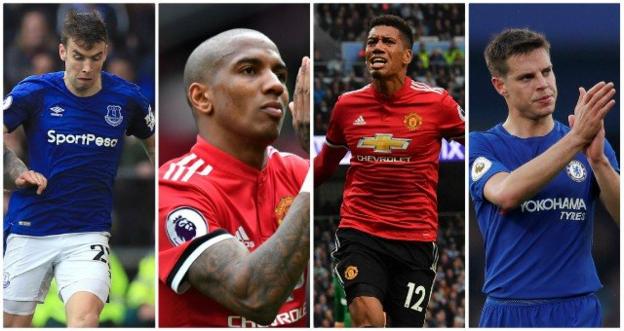 Seamus Coleman: It's great to see Seamus Coleman flying down the flank for Everton again after suffering that awful injury. The Ireland full-back looks like he's back to his best and posed Liverpool their greatest threat, along with Yannick Bolasie, down their right side.
With a little bit of luck, Coleman might have anticipated Cenk Tosun's header back across the six-yard box to administer the final touch to what was otherwise a tame Merseyside derby. Liverpool fans were also conspicuously quiet. Hardly surprising after Tuesday night's extraordinary contribution to an amazing result in the Champions League. More on that in The Crooks of the Matter below.
Did you know? Coleman made more blocks than any other player in the Merseyside derby (two), helping to preserve Everton's clean sheet.
Ashley Young: I'm not sure what was worse, the tackle by Ashley Young on Manchester City's Sergio Aguero or the decision by Martin Atkinson not to give a penalty. Regardless, Young continues to show why he has forced his way back into the England set-up, once again displaying the sort of competitiveness that has characterised his season.
The fact Atkinson judged the tackle to be fair provides some indication of how far this referee was off the pace - and you can't blame Young for that.
Did you know? Young made four clearances, the joint-most of any United player in their 3-2 victory (Eric Bailly also made four).
Chris Smalling: Chris Smalling gets in my team of the week for his sheer mental strength. Having been mowed down by Vincent Kompany for City's first goal, Smalling gathered himself and produced a performance of a lifetime.
I've seen defenders disintegrate in games of such importance after such a high-profile mistake, but not Smalling. The England centre-back overcame the obvious psychological trauma, dug in and produced a fantastic winning goal. Sometimes you get what you deserve in football.
Did you know? Smalling has now scored in nine Premier League games, finishing on the winning side in all nine.
Cesar Azpilicueta: This was a difficult game for Chelsea. Had it not been for the leadership of Cesar Azpilicueta and the sheer enthusiasm of Antonio Rudiger, this might have been a different result for the Blues.
In the end, a draw was a fair result. That said, this is not the Chelsea we saw last season, and not the same manager. Last season Antonio Conte kicked every ball on the touchline and the players never gave up. At the moment that desire doesn't appear to be there. These are difficult times for the manager and his players.
Did you know? Azpilicueta's five Premier League goals have all been against sides beginning with W (two each against Watford and West Brom and now one against West Ham).
Midfielders - Jonjo Shelvey (Newcastle), Luka Milivojevic (Crystal Palace), Paul Pogba (Manchester United)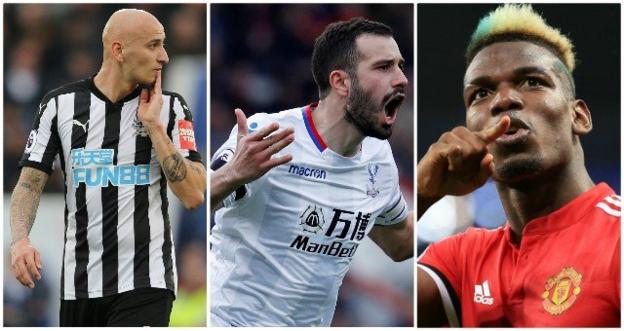 Jonjo Shelvey: This was an amazing victory against the 2016 champions by Newcastle and why I had no choice but to include Jonjo Shelvey in my team of the week. I have to be honest, I don't enjoy putting players like him in my team. I like footballers and there has been far too much over-physicality where Shelvey has been concerned. However, his performances of late have been impressive. With greater levels of fitness and a more reliable temperament, Magpies boss Rafa Benitez could turn him into a top-class player. Certainly England have no-one with his ability in midfield - he just can't be trusted right now.
Did you know? Shelvey scored with his only shot against Leicester and also made more passes than any other Newcastle player (34).
Luka Milivojevic: I said the last time I picked this player in my team of the week that he had an incredible amount of bottle - a quality Crystal Palace have lacked this season, especially in front of goal. Milivojevic has now scored seven goals in 12 league matches, which has turned the club's season around.
Palace are still flirting with relegation, however, and unless they start showing more courage and putting their chances away, it will continue to be a very nerve-wracking last few games. Fortunately, they have a manager in Roy Hodgson who has done it all and seen it all and is not prone to panic.
Did you know? Milivojevic made more passes than any other player in the Bournemouth v Palace match (65).
Paul Pogba: I've always maintained that Jose Mourinho plays the best attacking football when his teams are behind and no football at all when they are winning. United lost all their inhibitions when they went 2-0 down - and so did Paul Pogba. His hairstyle might be more suitable on the stage at Crufts but there is no doubt that when he is on his game, and the handbrake is off, he can do untold damage to the opposition - and he did. He took his two goals brilliantly and was the difference between United and City on the day.
Did you know? Pogba inspired Manchester United's comeback with two goals, becoming the first player to score twice away from home against the team starting the day top of the Premier League since April 2012 (Nikica Jelavic for Everton against Manchester United).
Forwards - Christian Eriksen (Tottenham), Wilfried Zaha (Crystal Palace), Marko Arnautovic (West Ham)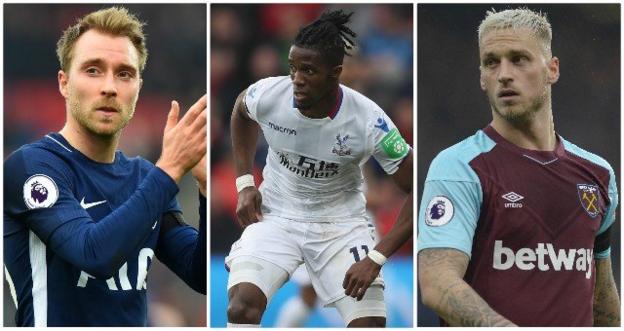 Christian Eriksen: I could watch this lad play football all day. Christian Eriksen strolled around the Bet365 stadium like an emperor, head and shoulders above everyone else on the pitch. If he wasn't making runs into dangerous areas, he was wreaking havoc with his precise passes.
To beat Stoke away from home after winning at Chelsea last weekend - and in light of goalkeeper Hugo Lloris' shambolic displays - speaks volumes about the team's development. At the heart of these performances has been Eriksen.
Did you know? Eriksen found the net with both of his shots on target against Stoke - the Dane has had a hand in 10 goals in his last six PL games against the Potters (three goals, seven assists).
Wilfried Zaha: You would pay money to watch this lad. He's exciting, unpredictable and creates chances. However, a man of Wilfried Zaha's ability is entitled to score more goals. He managed it against Bournemouth and with a little bit of help from his friends Palace would have come away with a vital victory.
Zaha is the jewel in the Palace crown and without him the club would struggle. That is why they must resist any overtures from bigger clubs to lure him away from Selhurst Park. Both Crystal Palace and Wilfred Zaha are good for each other.
Did you know? Zaha had more shots (five) and more shots on target (three) than any other Palace player against Bournemouth, scoring the second goal.
Marko Arnautovic: This was another outstanding performance by Marko Arnautovic, only this time against Chelsea. All credit to manager David Moyes and coach Stuart Pearce for getting this mercurial talent playing again.
We saw it at Stoke before he left and now their fans must be dreading meeting the Austria international next week in a fixture that would take them a step nearer to relegation. My advice to Stoke fans is leave him alone and don't bring any unwarranted attention to his leaving the Potteries.
Did you know? Arnautovic assisted Hernandez's equaliser, the 13th Premier League goal he's been involved in this season, five more than any other Hammers player.
You've seen my picks this week. But who would you go for?
Choose your XI from the shortlist selected by BBC Sport journalists and share it with your friends.
Pick your Team of the Week
Pick your Team of the Week
Pick your XI from our list and share with your friends.
The Crooks of the matter...
What took place outside Anfield as the Manchester City coach arrived for the first leg of their Champions League fixture was quite disgraceful. I thought that Liverpool fans were above attacking a team coach. Hurl abuse certainly, even stick two fingers up if you have to, but a co-ordinated assault on the team bus? So what's next, kidnap the coach driver?
An immediate apology from the club went some way to healing an incident that could have erupted into something far more serious. I want to be fair to Liverpool fans, other supporters have behaved just as badly - but that is no excuse.
I remember playing for Spurs in a north London derby and being besieged on our way to Highbury. I was also present when Spurs fans targeted the Arsenal bus when Sol Campbell returned to White Hart Lane for his first game against his old club. And who can forget the pictures of Jesse Lingard trying to lighten the mood as he lay on the floor of the Manchester United team coach pleading for his mummy to rescue him having dodged the flying glass on their way to Upton Park.
I raise this issue because the shenanigans that took place on the streets of Merseyside marred an otherwise memorable football match. I would have to go back some years to hear Liverpool fans in better voice. If you are going to intimidate the opposition then that is the way to do it. They were indeed Liverpool's 12th man as they won 3-0.
However, it is imperative Manchester City fans do not seek retribution for their players' coach being engulfed in a co-ordinated ambush by emulating the same tactics. If City fans really want to return the inhospitable welcome their players received en route to Anfield, then do it legitimately and raise the roof off Etihad Stadium. Let the Liverpool fans know the tie is far from over and why you feel so strongly about it.
That's the way you remind fans the role they really should be playing in these proceedings. Nothing hurts supporters and players like a defeat - and knocking Liverpool out of the Champions League will hurt their supporters far more than bottles and cans ever will.