Joe Montemurro: Arsenal role 'still surreal' as lifelong fan bids for Wembley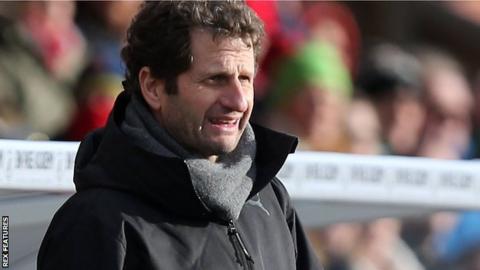 SSE Women's FA Cup semi-final
Venue: Marine Travel Arena, Marine FC Kick-off: 12:30 BST Coverage: Live on the BBC Red Button, online, on the BBC Sport app and on the BBC iPlayer
Having stayed up late to watch re-runs of Match of the Day in the middle of Australian nights during his childhood as a Gunners fan, Joe Montemurro admits it is still "a bit surreal" to now be coaching Arsenal Women.
"I had to look twice and get confirmation from my wife that it wasn't a hoax email, to check it was real," the former Melbourne City boss told BBC Sport, as he recalled the moment he was first approached about the move.
Back in 1979, a nine-year-old Montemurro was falling in love with the Gunners from the other side of the world when Alan Sunderland struck late to win one of the most dramatic FA Cup finals in history against Manchester United.
And now the 48-year-old manager is just one win away from leading out his own side at Wembley in the Women's FA Cup final, with Arsenal travelling to Everton for Sunday's first semi-final.
"My older brother came home one day with an Arsenal strip and I just fell in love with it," he said. "Growing up as a child in Australia, you got Match of the Day and the Big Match pretty sporadically, with re-runs in the night that were two weeks old.
"Being an Arsenal fan as a kid, it's still hitting home. It's an absolute privilege. I'm honoured to wake up every morning and coach at the club I love."
'We lost a bit of our DNA'
Since arriving in November, Montemurro has already led Arsenal to one major domestic trophy, beating favourites Manchester City in March's Continental Tyres Cup final.
It was a victory that had seemed hard to imagine before his arrival, with Arsenal appearing to be languishing behind title challengers Chelsea and Manchester City in recent seasons.
"The reality is that we all understood we had lost a bit of our DNA," said Montemurro. "We should always be there around the top two or three, always challenging for the trophies.
"The Conti Cup was a benchmark for us, to get back to Arsenal ways, to get back to winning trophies and playing our football. It's sort of ticked that box for now but we want to make sure that it's part of what we do on an ongoing scenario, without having to think about it."
The Gunners suffered a disappointing start to the season prior to Montemurro's arrival and were already five points behind the league leaders after just four games of the season, a predicament which the 14-time English top-flight champions were not accustomed to when they dominated between the late 1990s and 2012.
"We've stabilised the group and we're slowly starting to now see the fruits of that and getting a little bit of continuity, seeing reward for the hard work being put in by the players," he continued.
"The players are all amazing individuals, both as characters and footballers. The important thing is for me to install a level of belief.
"I just want to be the best I can be and hopefully make a contribution to changing some behaviour in these players' lives going forward, and hopefully playing a great brand of football that is exciting in the Arsenal way."
'There's no token gesture to have a women's team here'
Montemurro, whose playing career included a spell in Italy, has been particularly impressed with the professional setup at Arsenal Women, who train at the same London Colney site in Hertfordshire that their male counterparts use.
"The important thing there is we're part of Arsenal's 'elite' squads," he said. "There's no differentiation, we train with the senior men, the under-23s, the under-18s.
"There's no token gesture to have a women's team, which is what's fundamental and important for the game to grow, having that base.
"We were privileged at Melbourne City to have fantastic facilities but, in reality, it doesn't compare to what's available here."
In the increasingly professionalised environment of the Women's Super League, other clubs can also now claim to have top-class facilities - but no English sides have anything close to Arsenal's trophy haul.
Victory on Sunday at Everton would see the Gunners reach their 16th Women's FA Cup final, as they bid to extend their record of 14 wins in the competition, but how wary of the Toffees should they be?
"We have to be very cautious of a very good opponent," warned Montemurro. "Everton are very well organised and have some players who can unlock games.
"We just have to be smart and manage the game, playing our football to get on top and dominate."
Both of Sunday's semi-finals will be broadcast live on the BBC for the first time in the cup's history, with WSL 1 leaders Chelsea hosting holders Manchester City (15:30 BST) after Arsenal's trip to Everton (12:30 BST).
So what would it mean to reach a Wembley final when the home of English football hosts the biggest club match in the English women's game for only the fourth time?
"Being at Wembley, being involved in the FA Cup is probably something that you could never imagine in your whole career," said Montemurro. "For a coach, it would be an amazing opportunity.
"But the important thing is that we, as Arsenal, need to get there. We need to be competing in finals consistently.
"Hopefully we can showcase a beautiful brand of football too. We want to get to Wembley on a consistent basis.
"At this club, Arsene Wenger created an identity. Something I know about the club is that you can take the red off the players, but you still know it's Arsenal by the way that they play. That's the really important thing in part of my vision and the way I want to see football played."