From lining up alongside Lingard to the barber shop - how you get over rejection by Man Utd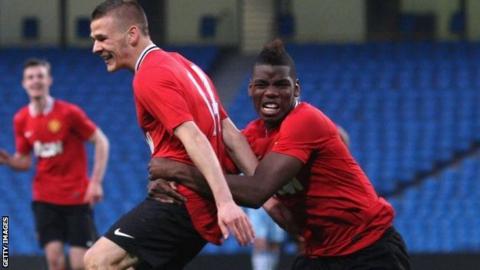 Six years ago, he celebrated alongside Paul Pogba - now he'd like to cut the Frenchman's hair.
Luke Giverin thought he might make it at Manchester United, but several years after leaving the Premier League club he has a new career and new dreams.
As a new MOTD Kickabout documentary called Never Give Up explores, rejection by a top-flight team can be difficult, but skills learned on the field can be very valuable off it.
The memories came flooding back
When Vincent Kompany scored the opening goal for Manchester City in the recent derby, the memories came flooding back for Giverin.
The 25-year-old was transported from his home in Salford back to 2012, when Kompany had also scored in the Manchester derby.
Less than a month after Kompany's winning goal, Giverin was part of a United side playing in the Manchester Senior Cup final, alongside Pogba and Jesse Lingard.
United, who earlier that season had won the Premier Reserve League, were leading Manchester City 1-0 at Etihad Stadium.
Late in stoppage time, striker Will Keane - now at Championship side Hull City - controlled a high ball and guided it into the path of Giverin, who had come on as a second-half substitute.
"My instructions were to not go forward, and double up on the right winger. But five minutes after coming on, the ball got played forward. I looked around and thought, 'I've got fresh legs, I'm going to go for it'," he said.
Giverin, on his weaker right side, took a confident first touch out of his feet and drove into the opposition box.
"I decided to take the shot and luckily for me it went in. As I went off to celebrate, Paul Pogba dragged me to the ground and all my team-mates jumped on me. My friends and family were in the stands watching as I scored and lifted the cup, which made it one of the most special moments in my life."
A few days earlier, Giverin had made his debut for the first team in Harry Gregg's testimonial match. It was the stuff of dreams for a boy born in Salford who joined United at the age of seven.
"The experience was incredible. Going on the first-team plane, seeing all the fans when we landed at Belfast airport," he said.
United had taken a strong side, featuring the likes of Wayne Rooney, Ryan Giggs, Paul Scholes and Dimitar Berbatov.
Giverin did not expect to play but was told by manager Sir Alex Ferguson that he would replace Patrice Evra.
"All the first-team players were coming up to me before I went on and said to me: 'Don't worry about anything - just do your best.' So that's what I went on and tried to do. And I loved it."
'It felt like my life was over'
Giverin was sent on loan to Belgian side Royal Antwerp during the 2012-13 season, following in the footsteps of former first-team players Jonny Evans, John O'Shea and Danny Simpson.
He lived away from Manchester for the first time and got a proper taste of what professional football was like - playing in a stadium full of thousands of fans week in, week out.
He played 26 times for Antwerp, scoring three goals and making 10 assists from midfield.
But shortly after his return, and two years after being signed as a scholar by United, he was told he was being released.
"It felt like my life was over," said Giverin. "Thinking I was never going to come back to Carrington and train. Everything I had ever known.
"After I left United, I spent six months at home, just waiting for a club to knock on the door and say: 'Here's a contract.' But that's just not the way it works."
Immediately after his departure, Giverin had trials at Derby County and Bury - but was told he was too small and not strong enough to make it as a professional.
Following a brief spell at non-league Salford City, he spent two years in Australia, working as a coach and playing in the National Premier League for Manly United and Dulwich Hill.
It was in Australia that Giverin discovered a new perspective on life and, with that, a new-found love for coaching.
'He's the best I've ever come across'
Giverin now dedicates his spare time to one-on-one coaching with young footballers, to help them develop specific areas of their game. And he has recently started a traineeship as a barber.
"It's completely different to playing football," he said. "But I'm really enjoying it. Once you progress, it's like anything - you do your best and get better at it. I took the opportunity to come here with both hands."
And the manager of the barber shop, Andy Baldwin, can see how Giverin's upbringing at United has influenced the way he approaches his working life.
"He's a fantastic man," said Baldwin. "A real professional, how he goes about his business as a barber, and is the best trainee I've ever come across. It's a natural thing to him and he's fascinated with trying to learn a new skill.
"As a football fan, I get blown away listening to some of the stories from his football career."
'It just goes to show, the hard work can pay off'
Giverin came through the ranks with Lingard, has known him since they were seven, and remains friends with the England international.
"He's doing so well now, and I'm proud of him," he said. "Not a lot of people have seen how incredibly hard he's worked to get to the top."
Despite not making the grade at United, Giverin believes a lot of what he learned there remains extremely valuable.
He said: "When I was released, Sir Alex Ferguson said to me: 'Just because you're leaving, it doesn't mean that's it and the door is shut. If you ever need anything, then you can always phone and speak to us.'
"My time at United taught me that it's not just a lesson of guiding you how to play football, it's to try and make you a better person too.
"I love what I'm doing at the moment. I've got the memories from being at Manchester United but now I'm focused on the present.
"What I've learned at this club is what I'm now trying to pass on to those kids, so hopefully they can go on and achieve their dreams in football."