Could a Fifa esporter be coming to a League Two club near you?
Last updated on .From the section Football20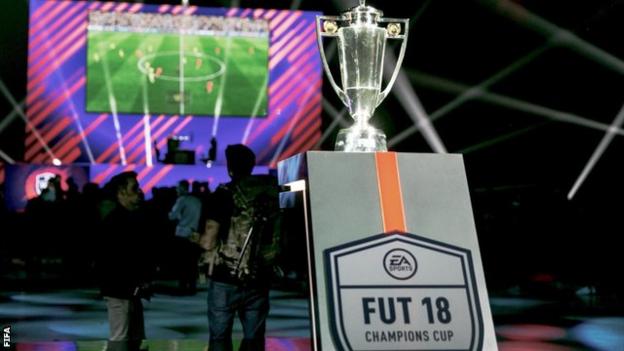 How does a League Two club build a worldwide audience? Invest in their own esports player.
Higher-profile clubs in more established leagues across the world are already employing console whizzes to represent them at esports game Fifa.
Football's world governing body, alongside game developers EA Sports, even announced plans this week to host a revised eClub World Cup in May.
But Manchester City and West Ham are the only English clubs who employ esports players on a full-time basis.
"If a team in League One or League Two get a Fifa player they can attract a worldwide audience almost instantly, one they would never be able to attract before," esports commentator Richard Buckley tells BBC Sport.
Buckley and Brandon Smith have quickly become one of the most popular commentary duos on the Fifa scene, but the so-called "Ant and Dec" of virtual football say English clubs are "lagging behind" their global counterparts when it comes to conquering the esports market.
"In Germany, every single big football club apart from Bayern and Dortmund have got Fifa players - 'esporters' as they call them out there," says Smith, who is working alongside Buckley at the FUT Champions Cup in Manchester this weekend.
"They understand the potential this has."
Putting your club on the esports map
The average attendance in League Two this season is fewer than 5,000 people, but at the last FUT Champions Cup event in Barcelona in January - part of Fifa's Global Series that finishes with its flagship individual competition, the Fifa eWorld Cup - figures hit 160,000 concurrent online viewers.
Buckley says Championship outfit Wolverhampton Wanderers could be the next English club to take the leap into the virtual world, while the idea is also gathering speed lower down the Football League.
The pair highlight the examples of Danish side Brondby IF and VFL Bochum of the German second-tier as to how esports success can prove a PR goldmine.
"A lot of English teams are looking at it and thinking it could be really good exposure on a global scale," says Buckley, who first teamed up with university classmate Smith last year.
"An American soccer fan isn't going to look at a League Two club. But, take Brondby last year, no-one had really heard of them before but they had one of the best Fifa players in the world and people began recognising Brondby because of that."
Smith, who earned his break after months of commentating on esports from his bedroom, adds: "German player MegaBit [Michael Bittner] was tearing up online qualification for the last event in Barcelona, and that man has given Bochum some fantastic press."
At the minute, many of the top UK-based Fifa players are representing the big hitters on the social media spectrum, such as Hashtag United or UNILAD.
For companies such as UNILAD, an involvement in esports hits the right notes with their young, social-savvy digital consumer base.
Acquiring Spencer 'Gorilla' Ealing, who is currently regarded as the world's best player having won the 2017 Fifa Interactive World Cup, has certainly helped.
"It was a big deal and took a lot of people by surprise," Matt Vincent, business development manager for UNILAD's esports team, tells BBC Sport.
"We are still in our infancy, but we're looking to bridge the gap between esports and the mainstream."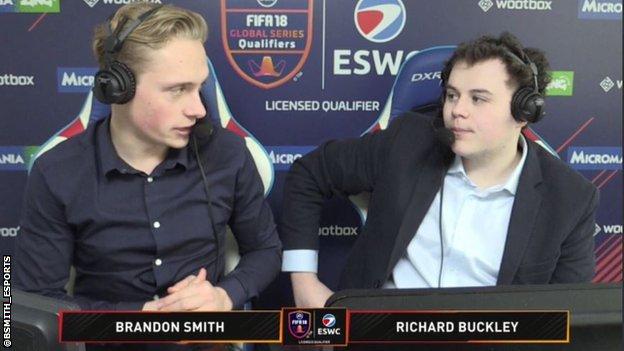 So, why would eSports players join a real club?
The attraction of joining a traditional European heavyweight like Paris St-Germain, which created its own esports franchise in 2016, or Ajax means, among other things, unlimited potential for players to boost their own social media profile.
Buckley explains that Dutch giants Ajax are one of the best clubs at integrating esports and real-life football by "using their Fifa players in mainstream content".
"Whether that's going down to a training day with the players and filming content or getting them free tickets to all the home games," he adds.
But Smith says the phenomenon of full-time paid professional esports players is still a relatively fresh one, and that being contracted to a club means a salary and more time to hone their skills.
"We've gone from having maybe five players as full-time professionals two years ago to 30 or 40 last year," says Smith, a sports journalism student at the UCFB based at Manchester City's Etihad Campus.
"This year we're hitting 100 people, maybe even more, that are playing the game as a full-time profession."
How much do esport players get paid?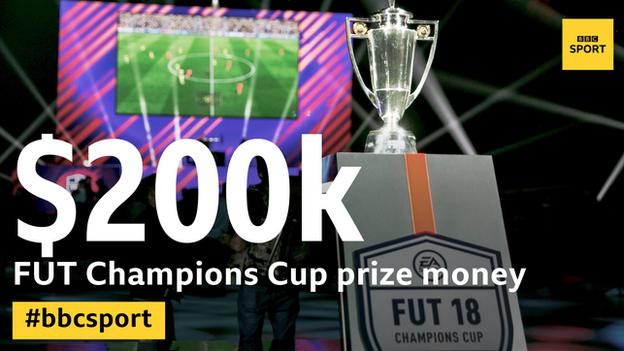 Should a League Two club decide to invest in an esporter in the near future, that player could find themselves earning more than some of the club's footballers.
According to a study by Casumo, the top 10 Fifa gamers in 2017 earned an average £55,911 from tournament winnings compared to the average League Two annual salary of £47,372.
In fact, Gorilla took home $250,000 (£175,356) in competition winnings, with Fifa's overall prize money increasing tenfold from 2016 to $200,000 (£140,400).
But there is more than just prize money at stake.
"A Fifa player at a club wouldn't touch much at all compared to the wages real football players are on," says Smith. "It varies depending on their Fifa CV - how many competitions or what rank they are in their own country.
"But if you look to players like August 'Agge' Rosenmeier playing for Hashtag United, he is one of the more iconic esports players in the world.
"He has a massive following on social media, YouTube subscribers, he has won a number of tournaments and is a Red Bull athlete - he is getting endorsed by Red Bull every month.
"These people have got their heads switched on and it's a lot more than just playing the game."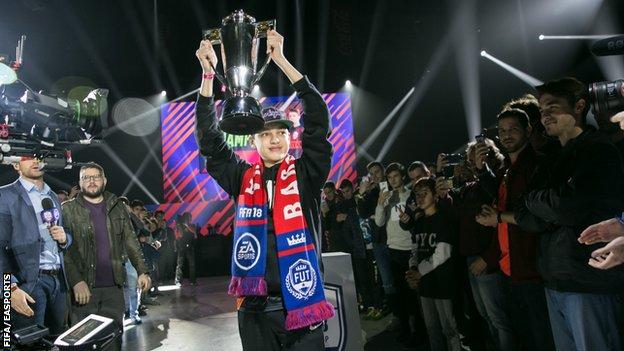 Potential for an esports Premier League?
Germany already has the eBundesliga, the Netherlands an eDivisie and France the eLigue 1, while there are equivalent competitions in Australia and Japan.
In January, eMLS Cup launched in the United States, however a lack of English clubs buying into the esports clamour is also reflected in the absence of a Fifa competition run in conjunction with the country's top flight.
But Smith and Buckley, who now combine their second-year studies with travelling around the world commentating at Fifa events, predict an ePremier League could soon follow.
"I think it is a general progression for Fifa esports - the Premier League is the biggest league in the world," says Buckley.
"Maybe we could get a virtual Premier League that would mirror the fixtures in real life week by week? Or Premier League Fifa teams playing at half time?
"At the Carabao Cup final between Manchester City and Arsenal there was a Fifa game as half-time entertainment - it's becoming more and more mainstream."