Chris Coleman: Gareth Bale could only go to 'giant club'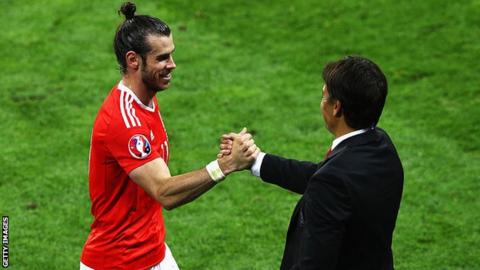 Gareth Bale could only leave Real Madrid for a "giant club", according to his former Wales boss Chris Coleman.
Bale, who joined Madrid in 2013 for £87m, has been the centre of a lot of speculation suggesting his time at the Bernabeu is drawing to a close.
Madrid manager Zinedine Zidane has relied less on Bale this season, starting him in just 16 league games.
However, Coleman, who worked with the 28-year-old when Wales manager, insists that Bale remains happy in Madrid.
Asked if Bale still has a future in Spain, Sunderland boss Coleman said: "How long has he been there? Five years, has he?
"After his first year when I used to do the Welsh press conferences, they always used to ask, 'The Spanish press are not very happy with him, has he got a future there?'.
"I think he's won three Champions Leagues there."
Bale became the first Welshman to score in a Champions League final in 2014 when he netted against Atletico Madrid.
The 28-year-old is also the only Welsh player to win three Champions League or European Cup titles, one ahead of Ryan Giggs and Joey Jones.
"All right, he's done a good stint there, but the last time I spoke to him, he was very happy in Madrid, his family is settled there," added Coleman.
"Where does he go from there that's bigger? There's nowhere bigger, so if he does leave Madrid, where's he going to go? It's going to have to be another giant club."
Manchester United have been linked repeatedly with a summer move for Bale but Zidane is adamant the forward, who has four years remaining on his current contract, will remain at the Bernabeu next season.