Celtic march on as Rangers left with bitter taste after Scottish Cup semi-final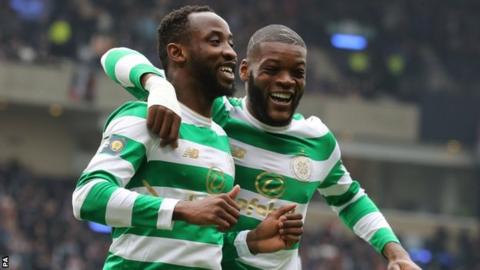 As the dust settled at Hampden Park after Celtic's dominant, ruthless demolition of Rangers, a rather dark cloud formed over Ibrox.
Celtic march on, ever closer to a second successive treble. They will be tested by Motherwell in the final, perhaps more so than on this occasion.
However, few would expect them to falter now.
Domestically, they are streets ahead of any team in Scottish football. That is hardly breaking news, but they emphatically proved that against Rangers with a performance that oozed superiority.
To a man, they outplayed and outfought their opponents and were clearly out of Rangers' league.
They are red-hot favourites to complete that treble.
Beyond that, who would bet against an eighth consecutive league title next season?
All questions must now be directed to Ibrox. This occasion proved just how far behind their city rivals Rangers really are. The 4-0 scoreline does not begin to reflect the disparity between the sides.
In the run-up to this, chairman Dave King seemed to put undue pressure on interim manager Graeme Murty. It was ill-timed and hardly helpful.
King now has questions to answer himself.
The stark reality is that Murty's hopes of continuing in the role beyond this season took a battering at Hampden.
He has steadied the ship since Pedro Caixinha's sacking in October, but their long-suffering fans will not tolerate that type of display or result.
The tactics were wrong, simple as that. Three midfield players sitting deep was designed to counter Celtic's threat. It had the opposite effect.
Rangers players could not get near their opponents. In the first half, it was a complete mismatch.
It was akin to the sort of game you'd play at school where you would swap some players to make a game of it. 'Next goal is the winner' would have been their only hope.
Sitting close to the end where Rangers supporters were seated, their frustration was clear and understandable. No real defiance, just another chronically painful reminder that their side is some way off a credible challenge.
They expect better and came with anticipation, if not full belief they could win. They left bruised and angry, unlikely to accept more of the same.
So what comes next? Second spot in the Premiership is still a realistic prospect and may point to progress after last season's third-place finish.
However, this result, and the manner of it, will leave a bitter taste in the mouth.
Rangers need drastic change. They need investment on the park. They need a manager to find a way to outmanoeuvre Celtic's Brendan Rodgers.
It is a mountainous task - and maybe one that is beyond Rangers for the foreseeable future.