Benjamin Garre: Manchester City cleared by Cas over signing of Argentine teenager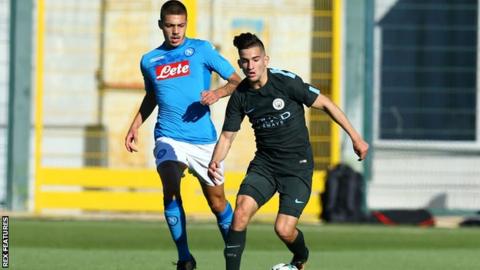 Manchester City have been cleared of wrongdoing over the signing of teenager Benjamin Garre from Argentine club Velez Sarsfield in July 2016.
The new Premier League champions could have faced a transfer ban if a ruling by the Court of Arbitration for Sport (Cas) had gone against them.
Fifa had already dismissed Velez's complaint that City had broken regulations when they signed Garre.
Cas has now upheld that verdict after a hearing took place last year.
A statement from CAS said: "The appeal by Club Atletico Velez Sarsfield is dismissed and, accordingly, the challenged decision is confirmed."
Velez argued that City had not abided by Fifa rules on international transfers when they signed Garre, then 16, and that the world governing body's regulations only allow players under the age of 18 to move between clubs in different countries if both are in the European Union.
But City countered that Garre, who has since appeared for the club three times in the EFL Trophy, held an Italian passport and was therefore entitled to move after his 16th birthday.
Velez took their complaint to Lausanne-based Cas, where the case was heard last summer.
While Cas was unavailable to comment it is understood City have already been informed that the court has upheld Fifa's original ruling.
City could have been prohibited from signing players for up to two transfer windows had they lost the case.
In May 2017, the Premier League fined City £300,000 and banned them from signing academy players for two years after they were found to have approached the family of two young players who were registered with other clubs.
Spanish giants Barcelona, Real Madrid and Atletico Madrid have been banned for breaching rules governing the signing of international players under the age of 18 in recent years.
Fifa's rules on the transfer of under-18s
Fifa bans the transfer of under-18s to different countries unless they meet strict criteria. It brought in the rules to help protect children from exploitation and trafficking.
Under-18s can only be transferred abroad if:
The player's parents move to the country in which the new club is located for non-footballing reasons.
Both clubs are in the European Union or European Economic Area and the player is aged between 16 and 18. Even then, the buying club must meet more criteria relating to education, training, living conditions and support.
They live within 100km of the club.