Celtic's win over Rangers made Hampden roar like a lion, say sound experts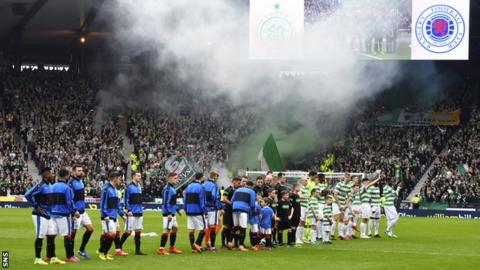 The much-eulogized Hampden Roar reached the levels of a wild lion at close quarters during Sunday's Scottish Cup semi-final between Celtic and Rangers.
Sound experts recorded what they described as an "incredible" 115-decibel peak during Celtic's 4-0 win over their city rivals.
All 20 English Premier League stadia pale by comparison, they claim.
They were called in by Hampden Park Limited as it looks to safeguard the future of Scotland's national stadium.
The Scottish FA had been considering an alternative of using the home of Scottish rugby, Murrayfield Stadium in Edinburgh, instead of renewing its lease for Hampden.
Owners Queen's Park agreed in principle last month to sell the Glasgow stadium to the governing body, but campaigners are continuing their campaign to prove the venue's worth.
Hampden Park Limited managing director Peter Dallas said: "Sunday's William Hill Scottish Cup semi-final reaffirmed why Hampden Park is Scotland's National Stadium.
"The Hampden Roar is unrivalled in Scottish football."
Vanguardia compared the touchline peak level, immediately after each goal, from the crowd of 49,729 to the roar of a lion from less than a metre away, the front row of a music concert, or just short of a jet engine at take-off from 25 metres.
It said the noise as the teams emerged from the tunnel - 109 decibels - was greater than the highest in the English top-flight according to a 2014 Press Association study, which was 84 decibels recorded at Manchester United's Old Trafford.
Vanguardia senior acoustic consultant Matt McIlroy added: "The noise levels from the moment the players walked out on to the pitch were incredible and really shows the passion of the fans that those levels did not significantly change throughout the match."
The Guinness Book of World Records recognises 142.2 decibels as the loudest noise recorded in a sports stadium.
That came during a Kansas City Chiefs v New England Patriots gridiron game at the Arrowhead Stadium, which holds 76,416 fans.