Wolves: Super agent Jorge Mendes, Chinese owners and global ambition
Last updated on .From the section Wolves
'The Pack is Back' is Wolves' way of announcing their return to the Premier League - and chairman Jeff Shi has a vision to make the club one of the best in the world.
Leeds chairman Andrea Radrizzani has called the link between Wolves' Chinese owners and Portuguese super agent Jorge Mendes "illegal and unfair".
And Aston Villa manager Steve Bruce has questioned how Wolves have been able to sign players who have featured in the Champions League.
Mendes is one of the most influential agents in the world and his clients include Real Madrid's Cristiano Ronaldo and Manchester United manager Jose Mourinho.
Wolves are adamant that their approach is within the rules - and there are other reasons why they believe the club will remain on the up.
The Mendes issue - 'Jorge is my friend'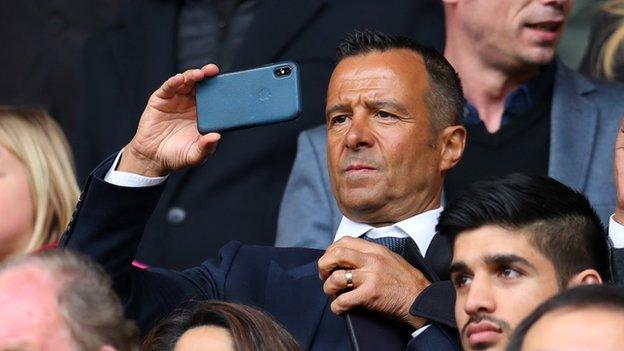 Encouraged by a desire from China's President Xi Jinping to have more Chinese involvement in European football, conglomerate Fosun International bought Wolves for £45m in July 2016.
The deal came seven months after a subsidiary of Fosun had taken a 20% stake in Mendes' Gestifute agency.
Mendes advised Fosun in their takeover of Wolves.
Shi told the BBC: "Jorge is my friend. He knows a lot about the industry. Sometimes when you are new to an industry, you need someone to help you, to tell you what to do, to share their failures and success. I can get good advice from him."
One of the things Shi has learned is success tends to attract increased scrutiny.
Who is Jorge Mendes?
Jorge Mendes has been described as a 'super agent'
He is the founder of Gestifute, one of the world's biggest football agencies
Cristiano Ronaldo, Diego Costa, James Rodriguez, David de Gea and Jose Mourinho are among his clients
Mendes was a nightclub owner before moving into football
When Blackburn floundered under the ownership of Indian chicken company Venky's almost a decade ago, there was criticism from supporters and the media of agent Jerome Anderson's advice on the purchase of the club, the appointment of his client Steve Kean as manager and which players were signed.
As Blackburn plummeted out of the Premier League and, eventually, into League One, rival clubs remained silent.
But there are fingers pointed at Wolves, with suggestions that both the EFL and the Premier League may look again at the structure of the club, its ownership and Mendes' involvement within it.
'I know every rule in the FA book'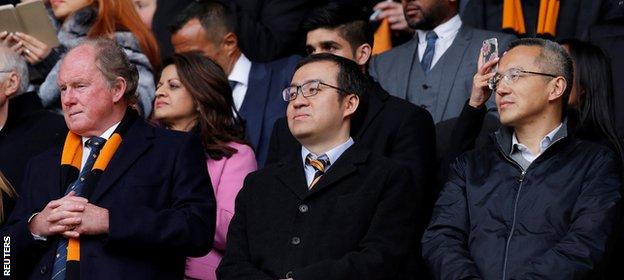 Under Football Association rules, club owners are prohibited from holding an interest in agencies and agents are not allowed to have an influence on the running of a club.
Wolves reject the notion that they are bending the rules.
"I don't know why they are thinking like this. Officially, legally, we passed all the owners' tests," said Shi.
"I know every rule in the FA book. I think, totally, legally, there is not any problems.
"The other thing is how can you get help from your network or your friends? Some have friends who are agents, or know a player or a market very well or have some friends to help you. Jorge is good at judging a player and has given good advice about the best way to build a team.
"When I came here people told me the Championship was about physicality, resilience and endurance. Also there was a formula about the squad and how many fresh players you needed. I can understand that. Many teams have been promoted through that formula.
"But you cannot copy other teams. If you want to stay in the Premier League and flourish, you have to play good football. It is hard but that mindset has come partly through my talk with Jorge."
Managing director Laurie Dalrymple said: "We are completely comfortable; in the way we recruit players, the strategy we deploy to do that and the system we build around how we finance it.
"I would provide clarity to the Leeds owner face to face if he really wanted to know. I would provide clarity to anyone if they really wanted to engage in a discussion with us.
"At no point to my knowledge and with the dialogue I have had with the EFL or the FA or anyone has there been any concern from their perspective about the way we conduct ourselves.
"When the club was sold, specific tests needed to be passed and declarations were made.
"Nothing has changed from then to now. We consider ourselves to be operating firmly within the rules and don't see that changing in the future."
A slow start, Nuno's 'big risk' and the Neves factor
Wolves' domination - Championship stats 2017-18

Wolves

Rank

Goals

78

1st

Goals conceded

36

2nd

Home wins

16

1st

Away wins

13

1st

Shots on target

204

3rd

Goal conversion

18%

1st

Total passes

21,531

2nd

Successful passes

17,575

2nd

Assists

56

1st

Clean sheets

22

1st

(Opta)
Fosun's first 12 months as Wolves' owners were not a success.
They sacked manager Kenny Jackett a week after the takeover. His replacement, Walter Zenga, was axed after 17 games and the services of Paul Lambert were also dispensed with at the end of last season.
"The suffering was predictable," said Shi. "We are not geniuses. We are students here."
The timing of the takeover is cited as a reason why that first season went wrong. The arrival of Nuno Espirito Santo as manager in May 2017 was a major factor in the second campaign going so right.
Nuno, 44, replaced Lambert to become Wolves' seventh manager in five years since the departure of the long-serving Mick McCarthy in February 2012.
Apart from Jackett, who lasted three seasons, Lambert's 33 games had been the longest reign.
Nuno has Champions League experience from Valencia, where he was replaced by Gary Neville, and Porto, the club he left by mutual consent a week before he joined Wolves.
As a 22-year-old budding goalkeeper, he was also Mendes' first client.
Wolves 2017-18 signings

Player

Transferred from

Price

Ruben Neves

Porto

£16.1m

Diogo Jota

Atletico Madrid

Loan (becoming permanent 1 July)

Roderick Miranda

Rio Ave

£2.7m

Rafael Mir

Valencia

£1.8m

Barry Douglas

Konyaspor

£1.03m

Ben Stevenson

Coventry City

£513,000

Ryan Bennett

Norwich

Free transfer

John Ruddy

Norwich

Free transfer

Phil Ofosu-Ayeh

Eintracht Braunschweig

Free transfer

Oskar Buur

Brabrand IF

Free transfer

Willy Boly

Porto

Loan

Leo Bonatini

Al-Hilal

Loan

Alfred N'Diaye

Villarreal

Loan

Benik Afobe

Bournemouth

Loan

Transfer fees according to transfermarkt.com
Shi says: "It was not easy to convince Nuno to come here. He took a large risk. The Championship is the toughest league in the world but he had a brave heart to embrace the challenge."
It would be naive to think Mendes was not a significant factor in Nuno's arrival at Molineux.
The same can also be said of 21-year-old Ruben Neves, who Wolves were stunned did not win the EFL player of the year award last weekend and scored a wonderful volley against Derby on 11 April.
Neves cost a Championship record £15.8m when he signed a five-year deal after moving from Porto in July 2017. He is the youngest Portuguese to play in the Champions League and also score in it.
He started eight games for Porto in 2016-17, including the Champions League last-16 first-leg tie with Juventus.
Neves is one of 19 Wolves players who have made 10 appearances or more in all competitions so far this season.
Of those, seven are either Portuguese or, in defender Willy Boly's case, signed on loan from a Portuguese club.
Swapping China for the Black Country
Mendes is not the agent for even half of the players Wolves have signed since the Fosun takeover. However, he is an invaluable source of information for Shi, whose business expertise comes from outside football.
Shi said: "I had a career as a manager of organisations. Before coming I was just a common football fan. That was from the outside.
"After I came I realised I had to learn something about football from the inside."
The greatest lesson Shi learned in his first 12 months was that he was living in the wrong place, and that commuting regularly from his home city of Shanghai was no substitute for being around the club permanently.
"You have to live in the city where the players are being coached, where you can watch training and games so you can feel what is really happening every day," he said.
"Coming over here full-time was the best decision I have ever made.
"It has allowed me to learn a lot of things about football and speak to many people about how to get a good team, how to work with the head coach and how to work on the commercial side."
The pursuit of global status
There are factors away from the playing personnel that Wolves feel can contribute to their upward trajectory.
Molineux, their home since 1889, needs major renovation if the standard of the stadium is to match the team intended to play there.
"If we want to be the totem for the area then the facilities and the stadium need to be better than they are. There are parts of that stadium that are 35 years old," said Dalrymple.
"Time and technology develops so quickly. We know we have some work to do but it will be strategic and methodical."
Millions are being spent on the training ground, where the first team pitch has already been dug up and the rest of the facilities are set for a major overhaul.
It is all a far cry from 2002 when Paul Ince and Denis Irwin arrived from Middlesbrough and Manchester United respectively to discover they had to get changed in a Portakabin.
With Fosun's money, Shi's quiet authority, Mendes' nous and Nuno's management, the possibilities for Wolves appear endless.
"The only thing we had to sort out when we came was the first team. Now we have done that, we can do something really special," Shi said.
"But this is a long-term thing and it is not only about the first team.
"It is about the facilities, the academy, the stadium, everything to help make the club one of the best in the world. That is our vision."