John Toshack: Carvalhal will be in demand if Swansea survive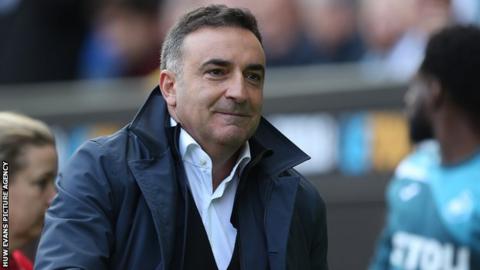 Swansea boss Carlos Carvalhal will be in demand if he steers City to Premier League safety, says John Toshack.
Carvalhal took charge in December with Swans bottom of the table and has taken them five points clear of the relegation zone with five games left.
Ex-Swans and Wales boss Toshack thinks City will stay up but he does not know if Carvalhal will remain because his work will have "alerted clubs to him".
He also believes Cardiff City will join Swansea in the top flight in 2018-19.
'You pay for the meal after the coffee'
Toshack, who scored 93 goals in 236 Liverpool appearances, believes the Portuguese may become a target for other clubs as his Liberty Stadium future is discussed,
"You don't know; you pay for the meal after the coffee," said Toshack.
"There is still a little way to go, a little bit to do.
"That is something between Huw Jenkins, the chairman and the manager himself."
Toshack added: "Maybe the work he has done at Swansea, if he can carry it on through to the end of the season, will have alerted other clubs who are looking for new managers.
"So as I say, it depends very much on how he feels, how it finishes and what Swansea themselves think."
Carvalhal has a contract to the end of this season with an option to extend, but his focus has been on the club's top flight survival.
Toshack was in the stands for Swansea's 1-1 home draw with Everton which moved them a point further away from the bottom three, and the 69-year-old believes Carvalhal's side should have won.
"I am pretty sure they will be OK," he said.
"They have a couple of difficult matches coming up now against the top sides (Manchester City and Chelsea), then they finish off with two teams at home (Southampton and Stoke) who look as though they are going to go.
"So it's very much in their own hands and I think they will be OK without too many problems."
He added: "When he [Carvalhal] arrived, the task looked virtually impossible, but they turned out results and performances against really top sides at home.
"I think he has done terrific, but I think the Swansea fans, as well, have been terrific with the support they have given the team in a very difficult situation.
"Very often when you are down at the bottom and you are struggling there are examples of other teams in the Premier League who look as though they don't want to be there when they play at home and the crowd get at them.
"They leave early and attendances are down, but the Swansea public have been terrific.
"They have pushed this side on and since the new man has come in the players themselves have responded."
Toshack expects Cardiff to join Swansea
Toshack also believes Cardiff City, where his stellar career began, will join Swansea in the Premier League in 2018-19.
Neil Warnock, who is chasing a record eighth promotion, has guided Cardiff to second in the Championship, and they need three wins from their remaining four games to guarantee promotion back to the top flight.
"There is no question eight promotions is a fantastic achievement for any coach and I would like to congratulate him," said Toshack.
Despite having a run of poor results around Christmas, Cardiff have not been lower than fourth in the league table since the second game of the season.
"It is credit to Neil and the way he works," added Toschack.
"He is a tough Yorkshireman, very proud and he knows exactly how he wants his teams to play.
"He has instilled a siege spirit which is very difficult to beat and Cardiff are a very difficult team to beat and that is down to the work Neil and his assistants have done there."