Ethan Ampadu: Exeter City 'disappointed' by Chelsea tribunal ruling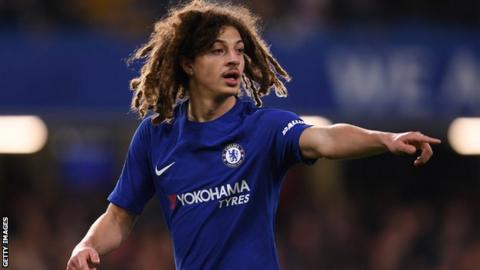 Exeter City say they are "disappointed for football" after a tribunal ordered Chelsea to pay the League Two side up to £2.5m for Ethan Ampadu.
The potential fee would be an Exeter record, but chairman Julian Tagg said the ruling "sends the wrong message" to clubs producing home-grown players.
Wales defender Ampadu, 17, moved to Stamford Bridge last summer having come through Exeter's youth academy.
He has made seven appearances for Chelsea so far this season.
One of those was in the Premier League - as a substitute in the 3-1 win at Huddersfield in December.
He has also played twice for Wales, making his debut against France on 10 November and then his first start four days later against Panama.
Ampadu became Exeter's youngest-ever player when he made his debut aged 15 years, 10 months and 26 days in August 2016 and played 13 games for the Grecians.
Exeter are guaranteed to receive £1.3m based on a transfer fee plus the international and first-team appearances he has already made.
Further payments will be made when Ampadu makes a set number of appearances for Chelsea, while Exeter will also receive a 20% sell-on fee should he leave Stamford Bridge.
Exeter's existing club record sale is the £1.8m Brentford paid for striker Ollie Watkins in 2017.
'To say we are disappointed is an understatement'
In a club statement, Tagg said: "Whilst the club recognise that the compensation fee is not a transfer fee, but instead to reward the club for its investment in the training and development of a proven outstanding player, and that the tribunal has awarded Exeter significant contingent sums, to say that we are disappointed is an understatement.
"We are disappointed for our fans, our academy, which works so hard on producing talented young players like Ethan, and for our management and coaching team who bring these players into the first team and beyond as part of supporting the work of the Football Association in its objective to produce international players of the highest quality which we believe we have done.
"However, above all, we are disappointed for football as we feel this decision sends the wrong message in terms of financial reward for those owners, chairmen, managers and coaches up and down the country who are also working as hard as us to improve their clubs by producing talented home-grown players for both club and country."
Analysis
Brent Pilnick, BBC Sport
Exeter's hierarchy felt that by being patient and allowing Ampadu to develop into a full international and regular in the Chelsea squad, it would up his value.
While that has probably been the case, there is a strong feeling amongst all those associated with the club - staff and fans - that they have been short-changed by a top-flight club with riches that a fan-owned fourth-tier side can only dream of.
It will once again open the argument that the top clubs have too much power and influence over smaller ones when it comes to signing players.
Ampadu's fee could still turn out to be a club record and he is the third player from their much-respected academy to garner a fee of more than £1m in the past three years.
But while City's academy has generated more than £5m for the club in that time, many will be saying 'if only it was more'. Exeter fans will have to hope Ampadu continues to blossom and he gets a high-value transfer to another club in years to come if they are to truly profit from his development.