Steve Morison says lack of egos is behind Millwall's Championship success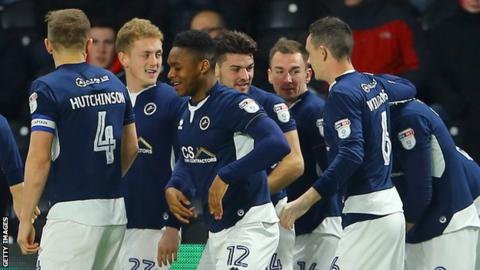 Millwall striker Steve Morison says a lack of egos and an egalitarian atmosphere is behind the club's success in the Championship this season.
The Lions, who were promoted via the League One play-offs last year, are sixth with three games remaining.
"Everyone is on the same pay grade and no-one is in a completely different category to anyone else," the 34-year-old told BBC Radio London.
"Everyone is together so you don't have to worry about egos."
The Lions have put themselves in contention for successive promotions following a 17-match unbeaten run in the league, which has lifted them from 15th into the play-off places.
Morison think the recruitment policy of boss Neil Harris, targeting the right characters to add to the squad, has proved crucial to their good form.
"We keep talking about it but the spirit in the camp and the relaxed nature we have got is really good," Morison added.
"I think that has come about because the gaffer has put a really good group together of good players who fit in.
"It's funny but I'm still waiting for that day that someone walks through the dressing room with an ego. If that happens you know the place is going in the wrong direction."
Millwall players 'need to succeed'
Morison, who is in his third spell at The Den, thinks the hard-work ethic at the south London club has also driven their unexpected bid for promotion to the Premier League.
The Lions have not played in the top flight since 1989-90, and have not achieved a top-six finish in the second tier since 2001-02.
"Those people who have got tens-of-million-pound budgets and are paying people 30, 40 or 50 grand a week are supposed to be in the play-offs," the Wales international said.
"They are the teams that we are turning over every week because we want it a little bit more than them.
"Every single man in that dressing room needs to succeed to earn money to be able to continue to have a good career.
"Apart from maybe Tim [Cahill], every single player would have to go to work if they had to stop playing tomorrow.
"There is a big difference between our dressing room and most in this league."
Millwall host third-placed Fulham on Friday (19:45 BST).