Referees: 'Groundbreaking' Ryan Hampson case will help amateurs, say campaigners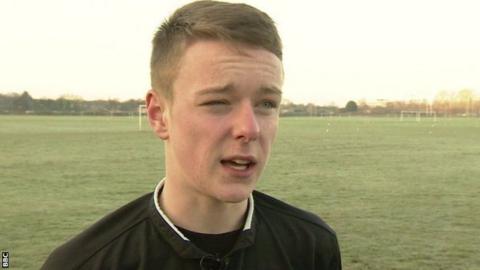 Campaigners have praised a ruling which they say will encourage people to come forward with complaints about the abuse of amateur referees.
Ryan Hampson, an ambassador for the Ref Support UK charity, was charged with misconduct by the Football Association when he tried to defend a teenage referee's actions.
But a barrister-led inquiry has found the case against him to be not proven.
"It's a groundbreaking case," said Ref Support UK chief executive officer Martin Cassidy.
"This sends a message to referees that it is OK to complain about the behaviour of coaches or players."
Hampson emailed a Lancashire FA club after a 15-year-old boy reported being verbally abused by three adult coaches.
He was given his own misconduct charge for "not acting in the best interests of the game" but the case was not proven after a three-hour hearing.
Ref Support UK argued that, despite being a qualified referee, Hampson was acting in his role for the charity and the FA should not charge him.
"People might be scared of giving their concerns if they face being charged by the FA," said Cassidy.
"Hopefully this will encourage people to come forward. The FA needs to clarify the rules so they are not a deterrent to reporting serious issues such as safeguarding and child welfare."
The FA says it was right to bring the charge and written reasons would be published in due course, but declined to comment further.
No-one from the Lancashire FA was available for comment.
Last week a referee who is quitting after allegedly being assaulted by a player for the second time in his career said Sunday morning football is a "powder keg waiting to explode."
Ross Hawkes claimed he was attacked by a Brereton Town player while sending him off for dissent during a cup game against fellow Cannock Chase Football League side Talbot FC.
The 36-year-old says he was punched and kicked, leaving him with a cut eye and injuries to his legs.