DR Congo FA boss Omari released after corruption questions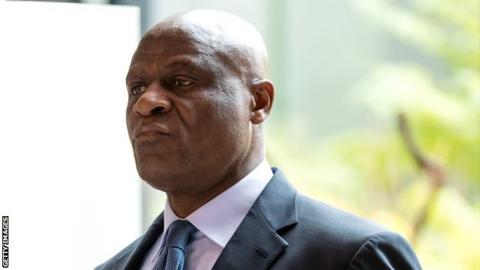 The president of the DR Congo Football Federation (Fecofa) Constant Omari has been released from detention but ordered not to leave the country.
He was taken into custody with three others on Tuesday as part of a probe into embezzlement.
The investigation will continue into the misuse of public funds in the organisation of matches in African competitions involving national sides as well as clubs.
"My sincere thanks to the real justice authorities who have finally realised that you cannot simply accuse officials based on lies, hatred and jealousy," Omari posted on Twitter.
Omari, who is also on the Fifa Council and a vice-president with the Confederation of African Football, was questioned along with sports ministry secretary-general Barthelemy Okito and two Fecofa vice-presidents, Roger Bondembe and Theobad Binamungu.
The lawyer for the four men, Alain Makengo, told AFP they were being questioned over what happened to US $1m (800,000 euros) earmarked for four matches.
Football's world governing bidy, Fifa, says it has been monitoring the situation.
"Fifa is closely following the matter and gathering additional information but has no further statement to make at this stage," Fifa said in a statement.
"More information could be released as the situation unfolds."