Arsene Wenger: Six iconic rivalries for departing Arsenal manager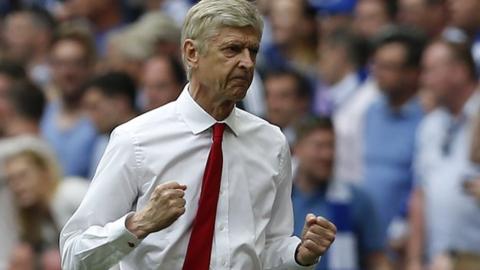 "The end of an era" some are calling it, as Arsene Wenger prepares to step down as Arsenal manager at the end of the season.
"Au revoir to the rivalries" you might also say. After all, no leader reigns for 22 years without the odd moment of confrontation. Let's take a look back at some of the Frenchman's most memorable battles...
1. Wenger v Fergie... or was it Fabregas?
This was not just a fleeting moment in the tunnel at Old Trafford one autumnal afternoon in 2004.
This spat cemented the fierce rivalry between Arsene Wenger and the then Manchester United boss Alex Ferguson into footballing folklore.
If you aren't aware of "Pizzagate" or the "Battle of the Buffet", picture the scene: Manchester United's had just beaten Arsenal 2-0 in a tempestuous match that ended the Gunners' 49-match unbeaten run.
In his autobiography, Ferguson recalls the moments just before a slice of pizza ended up staining his suit.
"Ruud van Nistelrooy came in to the dressing room and complained that Wenger had been giving him stick as he left the pitch.
"Right away I rushed out to say to Arsene: 'You leave my players alone.' He was incensed at losing the game.
"That was the reason for his combative behaviour. 'You should attend to your own players', I told him. He was livid. His fists were clenched. I was in control, I knew it."
All of a sudden, Italian cheesy, tomatoey goodness covered the Scot.
"The next thing I knew I had pizza all over me. We put food into the away dressing room after every game. Pizza, chicken.
"They say it was Cesc Fabregas who threw the pizza at me but to this day, I have no idea who the culprit was."
Spoiler alert - it was Fabregas. He admitted to the misdemeanour years later.
"That day created a division between [myself and Wenger], without doubt", Ferguson wrote.
A division? Sure. Many a brilliant headline? Absolutely.
2. Wenger v coat zips...
It's a cold day, your fingers are numb and you can't – for love nor money – fasten your coat.
But Wenger has picked a fight with his puffer jacket in full view of the Premier League's cameras on more than a handful of occasions. And it's not just the zip that gets him - pockets seem to be an issue too.
To be fair, he probably struggles just as much as everyone else. But as a leaving present, will someone in the Arsenal office please help the guy out?
Velcro? Poppers? ANYTHING but zips!
3. Wenger v Pardew
Wenger has had his fair share of touchline scuffles, but one of the more memorable came in 2006 with the then West Ham boss, Alan Pardew.
Hammers striker Marlon Harewood scored a dramatic late winner and the Boleyn Ground went wild, as did the boss.
It appeared Wenger didn't appreciate his opposite number's manic celebrations, which included Pardew flinging himself into his fellow coaches in a manner that reminded us a little of trout swimming upstream.
There were cross words, a shove or two and, at the final whistle, when Pardew tried to shake Wenger's hand the Gunners boss kept his arms firmly crossed.
Wenger was fined £10,000 and warned about his future conduct by the Football Association.
Our next moment suggests he perhaps didn't take that "warning" all that seriously...
4. Wenger v Mourinho
In the 22 years since Wenger took charge of Arsenal, Jose Mourinho has managed eight different clubs.
In that time, the two bosses have developed a fierce rivalry, which came to a head at Stamford Bridge in 2014.
The two managers - Mourinho then in charge of Chelsea - squared up to each other on the touchline during the first half.
Wenger shoved the Portuguese in the chest after taking exception to Gary Cahill's challenge on Alexis Sanchez.
Immediately after the incident, the Gunners boss told Match of the Day that Mourinho essentially walked into his arms...
"I wanted to go from A to B and somebody confronted me."
A few days later, Wenger told a French TV channel he should have reacted differently.
We are certainly going to miss the drama between these two...
5. Wenger v water bottle
As we've established, the Arsenal manager has been involved in the odd squabble over the years, but none have faced the "Wenger wrath" as much as the humble water bottle.
One of the great Match of the Day 2 moments over the years came from Gordon Strachan while discussing the moment Wenger took his frustrations out on a drink bottle at Old Trafford.
(Unfortunately, due to rights reasons we aren't able to show you Strachan's blow-by-blow narration, but a quick internet search should do the trick – we promise you won't regret it!)
After Arsenal's goal was disallowed at Old Trafford, Wenger nonchalantly punted a bottle that was minding its own business on the touchline.
Fourth official Lee Probert advised referee Mike Dean to send him off. Then, unaware of where to go, the Frenchman first retreated to the Arsenal dugout and then, when told to move to the stands, only managed to find his way to the top of the old centre tunnel, where he stood arms outstretched amid a sea of gleeful Manchester United fans.
And thus, the now iconic image of the Frenchman was born.
6. Wenger's 'Invincibles' v Everyone else
Of course, we couldn't leave this out.
In 2003-04, Wenger became the first manager since 1888-89 to lead a team through an English top-flight season unbeaten.
(For pub quiz fans - the previous team to achieve the feat was Preston North End.)
In 2012, this Arsenal side were voted the greatest team of the modern era as part of the Premier League's 20th season celebration.
But can you name the whole of the Invincibles squad?
Pit your knowledge against the clock and see how many players you can name in three minutes.
To make it a little easier, we've only included players who made at least one league appearance that season.
Don't forget to watch your spelling!
How many of Arsenal's 'Invincibles' can you name in three minutes?